Even though this blog is about money, and the source of most people's money is from their jobs, I don't really talk about careers that much. One reason for this is because I'm not experienced at the corporate game. I've never reached the point in the corporate ladder where I got to boss around others. Why listen to me?
Another reason is that I believe one's salary is not necessarily related to how smart they are, or even how hard they work. Some people are lucky, in that they love to do something that already makes a lot of money. Maybe they love investment banking, and all the numbers, long hours, and competition that goes with it. Others have tougher decisions. Maybe you like working with under-served populations and being a social worker. However, you'll also have to accept that living in a penthouse loft with a view is unlikely to happen. I'd love to be the newest host on Globe Trekker, but I don't think I have the talent for it. I think striking a good balance between these three factors is critical to a happy life: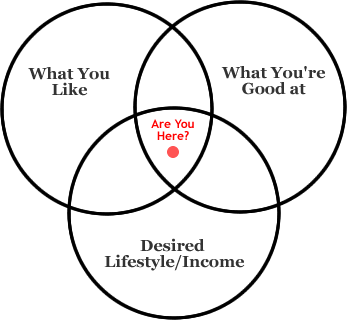 However, once you do decide on a career path, learn everything you can. This could be via an apprenticeship, graduate school, or on-the-job training. Don't just sit around and wait for things to happen for you. People making a six figure salary have one thing in common: specialized, in-demand skills. (I bet "people skills" count too.)
Also, I've noticed that with couples you can take the balance thing one step further. For example, if one person is happy with a stable professional 9-5 job, that might provide enough stability for the other person to pursue riskier activities like starting their own business or switching careers. Otherwise, the person by themselves may not chose to take that risk, for fear of loss of the sole paycheck or losing group healthcare benefits.
Finally, it's not what you make, it's what you keep. Of course, it's also a lot easier to keep more if you make more. On that note, when late summer comes around, don't be surprised if our net worth charts show some even bigger increases. 😀 We both now have full-time jobs lined up and both of us have the potential to earn annualized incomes in the six-figures. Unfortunately, we are also moving an area with a cost-of-living that is over 30% higher than where we are now, and housing costs that are 300% higher. So I'm not entirely ecstatic. Looking at houses online is even depressing 🙁