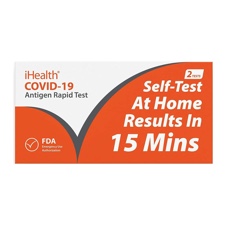 If you've been facing the prospect of spending hundreds of dollars on at-home COVID tests so that you and/or your kids can go back to work/school after an exposure event, please note that starting Saturday, January 15th, health insurance companies will be required to cover 8 free At-Home COVID tests per person, per month. From NPR:
Insurance companies and health plans will be required to cover eight free over-the-counter at-home tests per covered individual per month, according to White House officials. For instance, a family of four all on the same plan would be able to get up to 32 of these tests covered by their health plan per month.
There is more information in this CMS.gov FAQ.
Starting January 15, most people with a health plan can go online, or to a pharmacy or store to purchase an at-home over-the-counter COVID-19 diagnostic test authorized by the U.S. Food and Drug Administration (FDA) at no cost, either through reimbursement or free of charge through their insurance. This applies whether you purchased your health plan on your own or whether you get health insurance through your job.

The test will either be free directly at the point of sale, if your health plan provides for direct coverage, or by reimbursement if you are charged for your test. Be sure to keep your receipt if you need to submit a claim to your insurance company for reimbursement. If your plan has set up a network of preferred providers at which you can obtain a test with no out-of-pocket expense, you can still obtain tests from other retailers outside that network. Insurance companies are required to reimburse you at a rate of up to $12 per individual test (or the cost of the test, if less than $12).
The actionable advice here is to perhaps not stock up on these COVID tests until January 15th. At that time, hopefully you'll just be able to pick them up for free at the local pharmacy or health provider, but at the minimum you should save your receipts to be reimbursed. Given how much hassle reimbursement usually is, I'll probably try to wait until I can have the pharmacy to deal with the insurance paperwork.
I say wait until 1/15 if you can, because of this:
Plans and insurers are required to cover at-home over-the-counter COVID-19 tests purchased on or after January 15, 2022. Plans or issuers may, but are not required by federal law to, provide such coverage for at-home over-the-counter COVID-19 tests purchased before January 15. Contact your health plan to inquire about getting reimbursed for tests purchased before January 15, 2022. Some states may have existing requirements related to coverage of at-home over-the-counter COVID-19 tests.
I've already bought several of these iHealth Antigen Rapid Tests (FDA-authorized) from Amazon and they have come a little faster than promised.