Now that we have our own home and backyard patio, we decided to buy our first propane grill and invite some people over. We had to schedule a convenient time to have my father-in-law come drive down with us since he has a truck, so we had pretty much decided to just buy whatever was cheap and in stock. No hours of research this time! Although some of our serious grilling friends told us to buy a high quality $400+ model, which is probably good advice, we really just wanted something simple to start out with. If we grilled often enough, then later we could upgrade to something that would last a long time.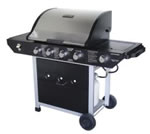 We had our eye on a $199 Brinkmann grill with some decent BTU, grill space, and also shelf space. But when we got there, they were cleaned out except for one last box that was definitely a previous return. The box was opened, slightly ripped, and had the words "Returned – Missing Parts, Send to Dept #18577" scrawled on the side with permanent marker. It had no special price tag.
All the other sub-$300 cheap grills were also sold out, even after spending 20 minutes searching through all the racks and the help of a Home Depot employee. Even neighboring stores were sold out. The next-cheapest one was $319 for a basic Weber grill, but we decided against it due to price and lack of shelf space.
We finally decided to rummage through the open box and see what was in there, and couldn't find any obvious missing parts. So we asked the employee if we could buy the "open box". Sure, he said. Can we get a discount? It says it's missing parts. He replied that he could give us 10% off. I actually thought about taking it, but my father-in-law said that wasn't worth the hassle. So we asked for more. How about 35% off? He said he couldn't do that, and that he'd have to find his manager for such a reduction. Yes, please ask! He kindly tried, explained about the missing parts, and the manager approved.
Out the door with a $199 grill for $130 and the full standard return policy, not bad. We went home and assembled it with no problems at all. Either the parts were actually found or the last person simply lied when returning the grill. I'm not expert, but I think it's a great starter grill for $130. All I know is that steaks taste better outdoors. 🙂
So that's how we walked in ready to pay full retail price, and yet ended up haggling at a big-box corporate store. While I still wouldn't try and negotiate for new items at Home Depot, it's definitely worth a try for "scratch and dent" items you may run across!
Update: Looks like the New York Times has more examples: Even at Megastores, Hagglers Find No Price Is Set in Stone.