The following is a guest post contributed by reader Bob, who started getting serious about financial freedom about 10 years ago and plans to reach early retirement next year at age 40. Thanks Bob for candidly sharing about your personal experiences and income-oriented portfolio.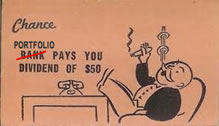 I started following Jonathan's blog about five years ago because I shared the same interest in personal finance and the goal of early retirement. I've made a lot of investing mistakes over the years, but with my 40th birthday coming up later this month I thought I'd share my approach which had the primary goal of income generation and capital preservation.
My initial goal was to cover my fixed expenses each month (housing, transportation, utilities, etc) from investment income. Once I had covered my fixed costs I expanded the goal to full income substitution for an extended period of unemployment (24 months), and later to full income substitution for 10-15 years. I'd like to say I was focused on a fixed target, but as with everything targets changed based on circumstances.
I started focusing on saving in the summer of 2005. I had graduated with an MBA and took a position at an Investment Bank in New York. I completed my MBA at the University of Texas at Austin largely because the tuition was low and I could graduate debt free. Looking back, this decision turned out be a very good one as I was able to secure a high paying job while investing relatively little in my education. In my view, maximizing revenue and minimizing costs is what personal finance is all about. However in life's little ironies, I ended up paying through the nose for my wife's graduate degree at UT in 2013-2014 but at this point we are far more capable of supporting this investment.
One thing I learned early on was that I did not want to be working in investment banking beyond ten years. The job takes a lot out of you and while the money is good and you learn a lot, it can be a very volatile business. Given the volatility in the markets and our annual bonus I decided I'd invest largely in fixed income and as a single guy in New York it made sense to look at tax-free munis. I don't pretend that I had the foresight into the real-estate and financial crisis of 2008-2009 but I did witness a lot of risk taking and leverage deployed in the pursuit of returns.
I will not go into all details of my portfolio rather I'll just go over the highlights.
$800,000 in taxable accounts which generate about 6.5% yield through investments in closed-end funds, utilities, and REITs. The vast majority is in muni bond funds as I'd prefer tax free income but qualified dividends also enjoy a lower tax rate. REIT income offers no tax advantage but I hold them as until recently we always rented our home. There is obviously a high degree of interest rate risk in my portfolio, but given I have deployed leverage in other part of my portfolio I'm comfortable with it. Overall I think taxes will go higher and so I'd much prefer munis to treasuries. I also hedge my bond holding by selling naked puts on the TBT (leveraged short treasury ETF). This has the positive impact of boosting my cash returns and hedging my long bond position.
$100,000 in LendingClub which generates a 7-8% return inclusive of defaults. I was hoping for a returns closer to 9% but given the institutional money chasing loans and tepid demand for loans it is not a surprise returns are lower than expected. Hopefully LendingClub does not relax underwriting standards in pursuit of loan growth. I still like this asset as the loans are short-term, payments include interest and principle, and you can invest as little as $25 at a time but I'll moderate my contributions in the future.
$200,000 in direct real-estate investments through RealtyMogul and Fundrise. I only started investing nine months ago, but I have aggressively added to this asset class. I get geographic diversification across the country and by assets class (residential, commercial, debt, equity) and you essentially cut out the fees paid to fund managers and REITs so I see this as a win-win. It is still too early to estimate returns, but I'm hoping tohttps://fundrise.com generate 7.5% on a cash on cash basis and any capital appreciation would be a bonus. Most of the investment promise IRR's north of 10% so I think the 7.5% is reasonable. I also think this asset class will prove to be better than LendingClub given these are secured investments and debt financing is cheap. On the downside there is zero liquidity, lead times are very long, and the minimum investments are very high.
Overall I'm generating about $6200/month in tax advantaged income and my goal is to eventually get this up to $7000. My savings suffered over the last 12 month as we incurred costs for my wife's graduate degree, we relocated from Berkeley, CA to Austin, TX and we purchased our first house. I feel confident in ramping up savings over the next months and hitting full income substation before my 41st birthday next year.
I'm sure other will ask how I intend to offset the impact of inflation I also have $500K in tax deferred retirement (IRA, 401K) accounts but these are broadly diversified across domestics and international index funds so not much to say. I think continuing to invest in tax deferred accounts along with real estate investments will help offset the impact of inflation.
If you have constructive questions or feedback, please leave them in the comments. Please remember to be respectful! If you'd like to share your own story, please contact me.