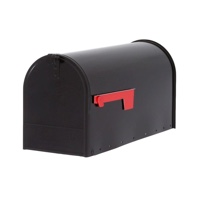 While helping a 92-year-old relative with her estate planning last week, I discovered that she receives dividend checks from ExxonMobil mailed to her every quarter. I also discovered she was an early retiree herself, retiring at age 50 with a government pension and these Exxon shares. What a long retirement! She has the literal mailbox money that Jack Bogle was talking about!
I went home and ran some quick numbers. I'm not going to disclose how much she owns, these are just some round numbers. In 1980, the Exxon quarterly dividend averaged 8.45 cents per share. As of 2019, the quarterly dividend has grown to 87 cents per share. (Thank you Divdata.com.) That means that the dividend has grown roughly 10X in the last 40 years, roughly 6% annualized. That's if you spent the dividend every 3 months without any reinvestment at all and completely ignoring any increase in the share price!
That means if she was cashing checks for $1,000 a year in annual dividends in 1980, she'd have all that income for 40 years while still cashing checks for $10,000 a year today. ExxonMobil is a Dividend Aristocrat, which means it has raised dividend payouts for 25 consecutive years or more. (It's actually raised dividends every year for the last 37 years.)
This was even greater coincidence because just a week earlier, I had bought additional ExxonMobil (XOM) shares in my "Fun Money" account – my only individual stock purchase so far in 2020. The XOM share price has been struggling in the short-term, due to a variety of reasons (lots of natural gas = low crude oil prices, large reinvestments = low free cash flow, etc). However, I believe it to be cyclical and haven't seen any reason to doubt its long-term prospects. If somehow we discover a cheap, limitless source of energy that makes oil worthless, I would happily take that win for society and see my Exxon holdings go to zero.
This is not meant as a recommendation to buy ExxonMobil stock, as my Fun Money account is more of an educational tool for myself and someday my children. I want them to understand that stocks are parts of real businesses. This story about their favorite great-grand-auntie will be a great reminder that while the news is often scary, we can't forget the benefits of a long-term perspective.