I'm going to Vegas! I haven't been in several years, so I wanted to brush on my gambling knowledge. Of course we all know that the vast majority of games have what is called a "House Edge", which means that over the long run the casino will be profitable. But not all games and bets are created equal. Since I love numbers, I decided to compile some ways to achieve the best odds in a casino. This way, you'll increase your chances of winning the short term, or at least extend the time between ATM visits 🙂
Odds Explained
A 95% expected return, or a House Edge of 5%, is the same as saying that on each bet you are expected only to receive 95 cents out of every dollar you bet. This does not mean if you walk up the table with a $100 bankroll, you will leave out with $95. You will most likely bet a lot more than $100 since you will win many hands as well. If you play 50 hands per hour, after 4 hours at $5 each that's $1000 in bets. With a 5% House Edge, on average you would have lost $50. The more hands you play, the more you are expected to lose. This is why good blackjack dealers deal so fast.
So besides playing inherently slower games or simply playing less, here are a few ways to get the best odds:
Bets Requiring No Skill
This includes scenarios where the best odds are achieved when you simply make the same move every time. (Actually, the best odds here are achieved by not gambling at all…)
Although the table is very cluttered, the best bet is actually very simple. Just put your money on the Don't Pass/Don't Come line and the House Edge is a mere 1.36%. You won't be very popular, however, as you are betting on the roller to "crap out". Since this is such a social game, it may be worth it to bet on the Pass/Come line instead – the House Edge is only slightly worse at 1.41%.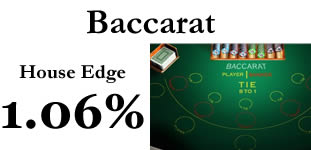 Although Baccarat has the reputation of being a "high-class" game, the ideal betting is remains straightforward. If you bet on the banker every time, the House Edge is a mere 1.06%.
Bets Requiring Some Skill
The main skill you need here is memorization. For each situation, there is always a single correlating "correct" move.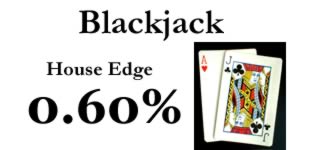 If you memorize Basic Strategy, the house edge in a normal six-deck shoe is about 0.6%. Keep in mind that the strategy changes slightly with all the small variations between blackjack games. Read up on how the rules on when you can split, double down, surrender, and more affect the odds. Never buy insurance. You can even practice learning online.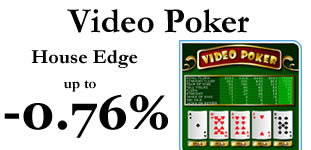 If you're going to stare at a computer screen alone, you should play video poker. Unlike slot machines, you can actually figure out your odds of winning based on the payout schedule which must be displayed on each machine. If you find a "full play" machine and memorize the correct moves for each combination of cards, you can theoretically achieve a negative House Edge of up to -0.76%. Keep in mind this takes into account getting the Royal Flush, which pays 800 to 1. However, if you practice a bit, you can whittle the House Edge down to less than 0.5%. (I don't know of any free sites that help teach you Video Poker, do you?)
Bets Requiring Significant Skill
If you are willing to put in the required of time and effort, poker may be a good idea. You are competing directly with other people, with the casino making their money by taking a small percentage of each pot. Tournaments can be a fun way to minimize your losses.
Another practice that can gain you a slight advantage over the house is Blackjack with card-counting. This takes into account that a blackjack deck has a "memory" – that is, what cards have been shown will affect the probabilities of what cards will be shown. Not only do you have to be mentally sharp and pay continuous attention to every single card shown, you have to do it all without letting the casino know you are doing it, as they'll kick you out. Card counting typically gives the player an advantage of 0.5 to 1.5% over the house.
Of course, Vegas isn't all about the odds. I personally like Craps (not just pass), Blackjack (no counting), and the sportsbook the best. Provide your own Vegas tips below!
References: Wikipedia – Baccarat, Craps, Blackjack, Video Poker