I just got my check from Fidelity for cashing out my 529 plan, courtesy of my MBNA 529 College Rewards Mastercard which gives me 2% cashback on everything I buy into that 529 account. My first disbursement request was lost in the mail, but my check finally came: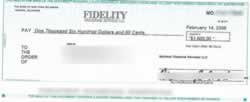 Out of the $1,600 I received, I would estimate that $900 was from my own deposits, $600 was from earning 2% cashback, and $100 from the tax-free growth of my conservately-chosen 529 portfolio. Nice!

I had to put in that $900 of my own money in due to the $50 required monthly auto-deposit to avoid an annual maintenance fee. It wasn't a big deal as it's taken out automaticaly from my checking account and it grows tax-free (since I am in school) anyways. I actually had more than $1,700 in my account, but according to the withdrawal form if I asked for the whole amount, my account would be automatically closed. Can't let that happen!
All in all, I've been really happy with this card and all the cards in my wallet. All of them have reliable rewards system that I don't have to worry about. Since I shared all my favorite credit cards more than 8 months ago, I haven't found another other combination that's better for me. 5% on groceries, drugs, and gas – 2% on everything else. I now have my Citi Professional card for 3% back on restaurants, but we don't eat out that much.