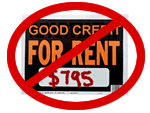 I had written previously about renting out your credit score, which takes advantage of a loophole in the credit score formula and allows people with poor credit scores to pay others with excellent credit so as to be added as an authorized user. This currently legal act can boosts a poor credit score as much as 200 points, and is most commonly used to obtain a lower rate on their mortgage loans. As you might expect, lenders aren't too happy about this.
According this AP article 'Piggybacking' Roils Credit Industry, this has led to some potential significant upcoming changes in the FICO scoring process:
Ninety percent of the largest U.S. banks base their loan decisions on FICO scores, which currently includes authorized user accounts. However, after discussions with lenders and industry officials, Fair Isaac said it intends to announce this week that all future versions of its FICO score methodology will no longer consider authorized user accounts, said Tom Quinn, Fair Isaac's vice president of scoring solutions.

The next version is slated to roll out in September to one of the three main credit reporting agencies — Equifax Inc., Experian Information Solutions Inc. or TransUnion LLC — with the other two agencies receiving the new version some time in 2008.

Quinn also noted that some lenders generate their own scores using authorized user accounts in their calculations, so the practice may not be easily negated.

Other consumers besides credit renters stand to lose with the change, namely those for whom authorized user accounts were designed: college students on their parents' cards and spouses with little to no credit of their own.
That's too bad, I would think that there would be a better way to close the loophole. Perhaps simply make it illegal for one to accept money for adding an authorized user? That would at least shut down the websites running openly.