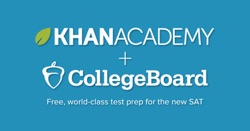 While catching up on some reading, it was refreshing to see Bill Gates offer a more positive spin with his Top 6 Good-News Stories of 2015. One of them was that the College Board announced free, high-quality SAT practice at Khan Academy.
This past June, the company that created the SAT helped the Khan Academy launch a free online learning portal for any student who wants help getting ready for the SAT or PSAT. Check out the site for yourself. If you're like me, you'll look at these interactive tools and video lessons and wish they had been around when you were in high school. I'm very excited about this development because of what it means for kids who can't afford expensive test-prep classes and tutors.
The interactive software offers both short diagnostic quizzes and full exams, along with feedback and interactive tutorials to make improvements. Apparently, the SAT is being revamped again in March 2016 and reverting back to the older 1600 point scale + optional essay. Ah, fun times.