Prosper person-to-person lending offers up another perk – a free credit score for prospective borrowers. If you're a lender already, it's not too difficult to become a borrower. I just had to verify my address and phone numbers, and they offered up my credit profile. You will need to provide your Social Security number, though.
After signing up and logging in, just click on "Get a Loan" and then "Get a Personal Loan". Note that this isn't your FICO score, but an Experian ScoreX PLUS score based on your Experian credit report. (Some people refer to these as Fake-O scores, or FAKO, as they compete with FICO scores.) Prosper makes it pretty clear that this credit profile will not affect your credit score:
Having Prosper obtain your credit grade won't affect your credit score. Although we are making a request for your credit score, we're doing so at your instruction so no inquiries viewable by subsequent users of your credit report will be placed in your credit file. That means your credit score won't be affected when you register or post a listing.
In other words, it is a soft pull. However, if you do fund a loan, a hard pull will be performed. Here's a partial screenshot of my profile: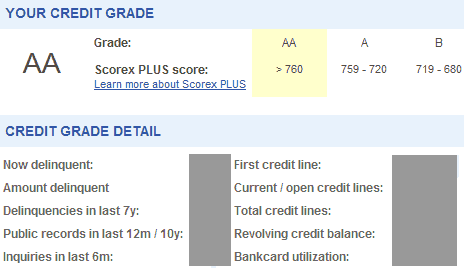 I'm not sure how the Experian score maps to FICO (they don't officially), but it should give you a general idea of where you're at. I'm glad to see I'm still at the highest AA grade even though I make money borrowing from credit cards, although admittedly I've been taking it easy recently. If you want access to your credit reports (not score), please check out the many ways to get a free credit report as well. Thanks to SlickDeals and reader Tim.
If you're interested in lending on Prosper, grab your $25 bonus and a few tips from these posts: