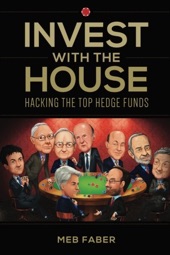 Asset manager and author Meb Faber has a new book out called Invest With The House: Hacking The Top Hedge Funds, where he explores the idea of simply copying the publicly-available holdings of top investment managers. I haven't read it yet, but for a taste, consider that a copycat portfolio of Warren Buffett using simply the Top 10 holdings of Berkshire Hathaway would have beat 98% of mutual funds since 2000. It is free to borrow for Kindle Unlimited subscribers and $9.99 to buy on Kindle.
(Test your investing nerd skills. How many of the hedge fund manager caricatures can you name on the cover?)
To celebrate and promote this release, Faber is also making his last three books free to buy on Amazon Kindle for a limited time (1/7-1/12/16). Here are direct links to those eBooks, plus links to my book notes.
Now, Faber does a fascinating job going back and finding such market-beating tricks, and I will probably read this new book as well. But before you put your hard-earned money at risk using such strategies, please realize that even if they continue to work (which is in no way guaranteed), they are also very hard to stick to in real life. Don't change your investing strategy unless you are supremely confident you will keep to it through thick and thin.