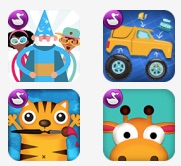 If you're a parent of young children these days, you're likely looking to make their screen time active and educational instead of passive. Unfortunately, free apps are often of low quality or severely restricted. Meanwhile, there are some excellent paid apps, but the cost starts adding up quickly at $2 to $10 a pop.
So it was welcome news when non-profit Khan Academy announced that they are partnering with developer Duck Duck Moose and making all of their apps completely free to download with all features. They have won 21 Parent's Choice awards and 18 Editor's Choice awards from Children's Technology Review.
Here are links to all of their Android apps and all of their iPhone / iPad apps. More supposedly are in the works.
There are a lot to choose from, so here are the apps organized by awards won. Here are the Common Sense Media reviews of certain apps.