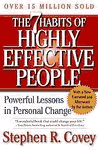 Audible.com is giving a free audiobook version of the popular personal development book The 7 Habits of Highly Effective People: Powerful Lessons in Personal Change by Stephen R. Covey.
I've read about half of the print version, and it does have some useful tips. One idea that I explored previously was to focus on your circle of financial influence.
Might be worth a download to see if you like to listen to audiobooks while commuting. Turns out, I don't.