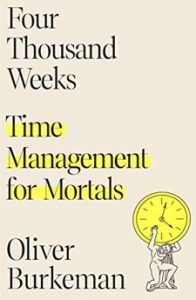 Four Thousand Weeks: Time Management for Mortals by Oliver Burkeman is a relatively short book filled with thought-provoking observations about the constant pressure that we feel, how there never seems to be enough time to accomplish the things that we really want. I can work from home while having almost anything delivered to my doorstep with a few taps, but somehow I still feel exhausted. Upon finishing, my Kindle showed 156 (!) highlighted passages, but I've whittled that down to a dozen of my favorites below. Don't have time for even that? Here is the entire book condensed to a single sentence:
You have to choose a few things, sacrifice everything else, and deal with the inevitable sense of loss that results.
Free yourself from the productivity trap.
The problem isn't exactly that these techniques and products don't work. It's that they do work—in the sense that you'll get more done, race to more meetings, ferry your kids to more after-school activities, generate more profit for your employer—and yet, paradoxically, you only feel busier, more anxious, and somehow emptier as a result.
…by any sane logic, in a world with dishwashers, microwaves, and jet engines, time ought to feel more expansive and abundant, thanks to all the hours freed up. But this is nobody's actual experience. Instead, life accelerates, and everyone grows more impatient.
Convenience culture seduces us into imagining that we might find room for everything important by eliminating only life's tedious tasks. But it's a lie.
Fellow financial freedom enthusiasts should appreciate this quote:
As a result, they work harder and harder, and soon busyness becomes an emblem of prestige. Which is clearly completely absurd: for almost the whole of history, the entire point of being rich was not having to work so much.
Gratitude. Don't start from a place of entitlement. Shift your perspective so that you start from a position of gratitude. Every day is a gift.
Why assume that an infinite supply of time is the default, and mortality the outrageous violation? Or to put it another way, why treat four thousand weeks as a very small number, because it's so tiny compared with infinity, rather than treating it as a huge number, because it's so many more weeks than if you had never been born?
…if it's amazing to have been granted any being at all—if "your whole life is borrowed time," as Cain realized, watching news reports of the Danforth Avenue shootings—then wouldn't it make more sense to speak not of having to make such choices, but of getting to make them? From this viewpoint, the situation starts to seem much less regrettable: each moment of decision becomes an opportunity to select from an enticing menu of possibilities, when you might easily never have been presented with the menu to begin with. And it stops making sense to pity yourself for having been cheated of all the other options.
In this state of mind, you can embrace the fact that you're forgoing certain pleasures, or neglecting certain obligations, because whatever you've decided to do instead—earn money to support your family, write your novel, bathe the toddler, pause on a hiking trail to watch a pale winter sun sink below the horizon at dusk—is how you've chosen to spend a portion of time that you never had any right to expect.
Personal finance parallels: Pay yourself first in both money and time.
If you take a portion of your paycheck the day you receive it and squirrel it away into savings or investments, or use it for paying off debts, you'll probably never feel the absence of that cash; you'll go about your business—buying your groceries, paying your bills—precisely as if you'd never had that portion of money to begin with. (There are limits, of course: this plan won't work if you literally earn only enough to survive.) But if, like most people, you "pay yourself last" instead—buying what you need and hoping there'll be some money remaining at the end to put into savings—you'll usually find that there isn't any.

The same logic, Abel points out, applies to time. If you try to find time for your most valued activities by first dealing with all the other important demands on your time, in the hope that there'll be some left over at the end, you'll be disappointed.
After years of trying and failing to make time for her illustration work, by taming her to-do list and shuffling her schedule, Abel saw that her only viable option was to claim time instead—to just start drawing, for an hour or two, every day, and to accept the consequences, even if those included neglecting other activities she sincerely valued. "If you don't save a bit of your time for you, now, out of every week," as she puts it, "there is no moment in the future when you'll magically be done with everything and have loads of free time."
Slow the rest down.
Just as there will be a final occasion on which I pick up my son—a thought that appalls me, but one that's hard to deny, since I surely won't be doing it when he's thirty—there will be a last time that you visit your childhood home, or swim in the ocean, or make love, or have a deep conversation with a certain close friend. Yet usually there'll be no way to know, in the moment itself, that you're doing it for the last time. Harris's point is that we should therefore try to treat every such experience with the reverence we'd show if it were the final instance of it. And indeed there's a sense in which every moment of life is a "last time."
I've probably watched too many time-altering movies, but I've started doing this weird thing where I imagine this is the last day of my life, except I'm not allowed to tell anyone. Somehow, it really does change my perspective and helps me enjoy the moment. It makes you take more pleasure in the mundane. I'm old enough that there has been the "last time" I've ever had dinner with multiple friends or relatives. I've now changed the last diaper on all three of my children, fed them their last bowl of mush, and so on. 😢
This quote is a good reminder:
"Because children grow up, we think a child's purpose is to grow up," Herzen says. "But a child's purpose is to be a child. Nature doesn't disdain what only lives for a day. It pours the whole of itself into each moment … Life's bounty is in its flow. Later is too late."
I've been implementing many of these various happiness/perspective tips and they do seem to help, at least for a while, but the long-term effectiveness is still unknown.