While I often talk about your savings rate as an important metric for reaching financial freedom, I also follow that up by talking about managing both parts of that formula: earning more and/or spending less. Focusing your energy on a specific task is often better that trying to do everything perfectly and getting frustrated when you can't juggle all the balls at once.
Financial planning expert Michael Kitces has come up with a helpful framework called The Four Phases Of Saving And Investing For Retirement that is related and also takes into consideration your portfolio size. This graphic he created explains it well: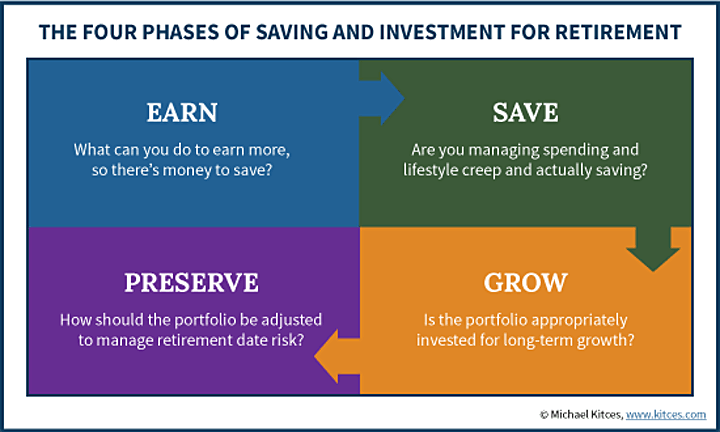 Here are my own notes and paraphrasing (please read original post for his own words):
Earn. First, you need income. Focus on your human capital to help you earn more. Invest energy into your education, career skills, and network (surround yourself with good people). If it fits your personality, take a risk and start a business.
Save. Once you have significant income, be sure to save a big portion of it. Create systems and habits to help keep your spending modest. A 30% or 50% savings rate for above-average earners is not out of the question.
Grow. Once you have significant savings, spend some time developing a set of solid investment beliefs and a written plan. Devote time specifically to learning about investing and/or find and hire a trusted advisor. Your money should always be making more money.
Preserve. You should only need to get rich once. Do you have proper insurance in place? Create a long-term plan to preserve and ultimately live off the income from your investment portfolio and other assets.
You can pay attention to the other areas, but I like this lifecycle method of prioritizing your finite time and energy.