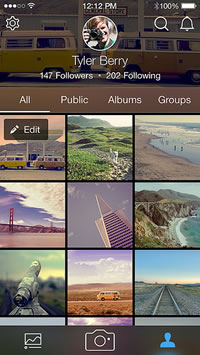 Photo site Flickr recently updated their iPhone and Android apps. This just happened to coincide with me running out of space both on my Apple iCloud and Dropbox accounts, so I took another look at the Yahoo-owned site and found it actually fit my needs at a great price point – free!
As they say, the best camera is the one that you have with you. Since the birth of our first child, we've quickly racked up over 20 GB of pics on our phones alone, and much more from our point-and-shoot. iCloud only gives iPhone users 5 GB of free storage, so I found myself paying $40 a year for the 25 GB upgrade (with a discounted iTunes gift card of course) but ate through that as well. Since I keep both USB hard drive and online cloud backups, I was also running out of room even on my free Dropbox account. I used to pay for an unlimited photo service called Everpix, but they shut down last year.
In comparison, Flickr offers everyone 1,000 GB of free photo and video storage at full resolution with no caps or image compression. (I figure that should last us until kindergarten…) 100 GB of space runs $100 a year on both Dropbox and iCloud – I know there are cheaper options but these have the most convenient sync software.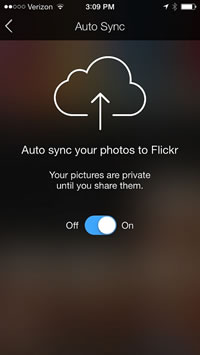 My favorite iCloud feature was the ability to automatically and continuously backup the photos on my phone. Nothing to remember, just take pictures. With their updated free app, Flickr can also auto-upload and sync your iPhone photos taken with the default Camera app. (I'm assuming the Android app has a similar feature.) It doesn't appear to upload any of your old pictures automatically, just the ones taken after you install the app and enable the Auto Sync feature (see screenshot). Auto-uploaded pictures are always set to Private by default (viewable by you only).
The new Flickr app also has several new features like an in-app camera with Instagram-like filters, sharing feeds, and better photo editing tools. After I manually back up the old photos, I plan to downgrade my iCloud account back to the free 5 GB level.