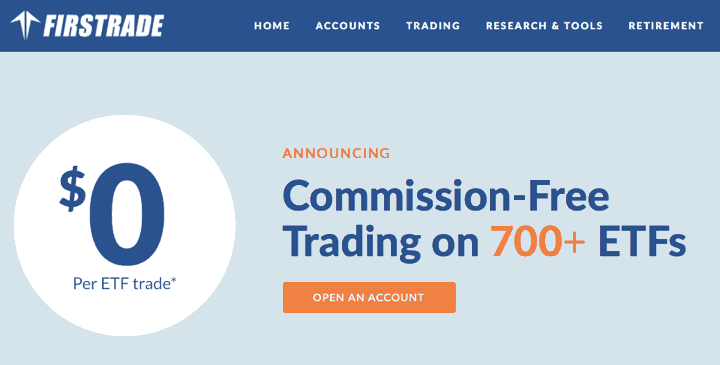 Online brokerage Firstrade just announced a new Commisssion-Free ETF program that includes 700+ ETFs from 40 fund families. This is a bold move as it includes both a lot of ETFs (quantity) but also the best ETFs (quality) from providers like Vanguard, iShares, WisdomTree, SPDR State Trust, and Schwab.
Firstrade already cut their standard trade commission to $2.95 per trade in 2017. The program is designed for long-term investors and the ETFs must be held for at least 30 days (if less than 30 days, the commission is the standard $2.95). Leveraged ETFs are not included. There is no need for any special enrollment for this ETF program.
Low-cost, broadly-diversified ETFS across major asset classes. Here is a partial list of ETFs that I noticed:
Vanguard (52 ETFs total)
Vanguard S&P 500 ETF (VOO)
Vanguard Total International Stock ETF (VXUS)
Vanguard Dividend Appreciation ETF (VIG)
Vanguard Small-Cap Value ETF (VBR)
Vanguard FTSE Developed Markets ETF (VEA)
Vanguard FTSE All-Wld ex-US ETF (VEU)
Vanguard Global ex-US Real Est ETF (VNQI)
Vanguard FTSE Emerging Markets ETF (VWO)
Vanguard Short-Term Infl-Prot Secs ETF (VTIP)
Vanguard Total International Bond ETF (BNDX)
Notably absent: Vanguard Total Stock Market ETF (VTI)
iShares (173 ETFs total)
iShares Core S&P Total US Stock Mkt ETF (ITOT)
iShares Core S&P 500 ETF (IVV)
iShares Core MSCI Total Intl Stk ETF (IXUS)
iShares Core US REIT ETF (USRT)
iShares Core MSCI EAFE ETF (IEFA)
iShares Core MSCI Emerging Markets ETF (IEMG)
iShares Core Dividend Growth ETF (DGRO)
iShares Core US Aggregate Bond ETF (AGG)
iShares Core International Aggt Bd ETF (IAGG)
iShares Short Maturity Bond ETF (NEAR)
Schwab (20 ETFs total)
Schwab US Broad Market ETF (SCHB)
Schwab US Dividend Equity ETF (SCHD)
Schwab Emerging Markets Equity ETF (SCHE)
Schwab International Equity ETF (SCHF)
Schwab US REIT ETF (SCHH)
Schwab US TIPS ETF (SCHP)
Schwab US Aggregate Bond ETF (SCHZ)
With this move, they take the title of "Largest Commission-Free ETF Program" from TD Ameritrade. Here's their comparison chart.

My take. Overall, competition is good and I always like to see lower prices for long-term ETF investors. Additional considerations:
Sustainable? This list is very similar to what TD Ameritrade used to offer commission-free, at least in terms of offering the most popular ETFs. However, TD Ameritrade eventually went for quantity over quality, dropping most of their widely-held ETFs and replacing them with niche ETFs and index ETFs from SPDR. One can only assume this is a loss-leader offering for Firstrade. Will it last?
Truly simple portfolios can just stick to the source. If you really want to construct a simple portfolio, you can open an account at Vanguard, Fidelity (iShares), and Schwab and buy ETFs (limited to their family) with no commission. The benefit is that in-house discounts are much more likely to stay free.
Tax-loss harvesting. A potential benefit of using a brokerage account is if you do tax-loss harvesting with ETFs. For example, you could sell iShares Core S&P Total US Stock Mkt ETF (ITOT) and buy Schwab US Broad Market ETF (SCHB), all commission-free and in the same account. With the big list above, ETF pairing for almost every asset class are available.
New account promotions. Firstrade is also offering the following new account cash + free trades promotions based on opening deposit. You can get up to $300 cash and 500 free trades. They will also cover up to $200 in account transfer fees when you switch from another broker and $25 in wire fees when you wire money to Firstrade.
Bottom line. Firstrade has a new Commisssion-Free ETF program that offers both quantity (700+ ETFs from 40 fund families) and quality (top-rated and popular ETFs from Vanguard, iShares, and others) for long-term investors (30-day minimum holding period). The standard commission on other stocks and ETFs is $2.95. This sure looks nice, but I hope it is sustainable. We recently saw TD Ameritrade cut back on their Commisssion-Free ETF program.