I have a couple of accounts at Fidelity Investments (solo 401k and taxable brokerage), and recently they sent me letter about a new service. FidSafe is a website that stores digital copies of documents for free and is open to the public, no relationship with Fidelity required. (It is technically from Fidelity Labs, owned by Fidelity Investments.) I signed up for an account and took it for a spin.
Sign-up Process
You are only required to provide a name, e-mail, and birthdate (18+ only). It is highly recommended to provide a mobile phone number as well because they support two-factor authentication, and you can choose to have it activated for every login attempt or only on unfamiliar devices.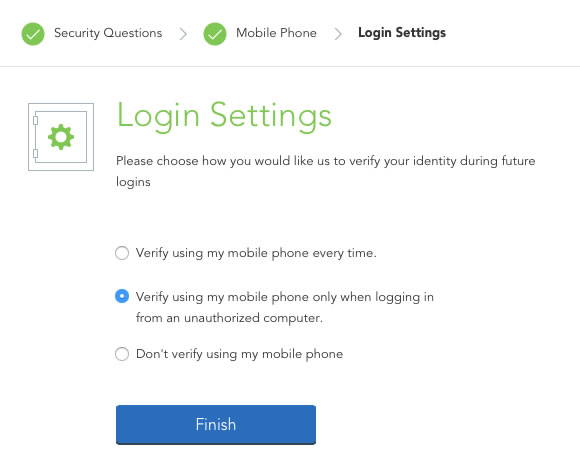 Security
In addition to the two-step login authentication mentioned above, FidSafe states that all files are encrypted both in-transfer and while stored on their servers. You can also upload files that you encrypted yourself, although that will make them more difficult to share with others. FidSafe employee access to your personal data or documents is also restricted.
Finally, they have something called an "Identicon" that helps confirm that you are viewing a legitimate e-mail or web page from FidSafe. Similar to what some banks have when you log in. You can choose from a limited selection of patterns and colors: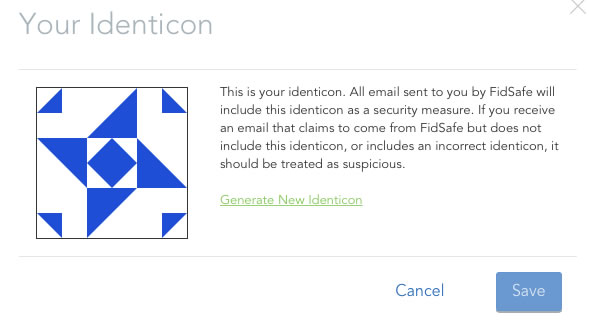 Storage Limits
FidSafe users will each get 5 GB of storage space without charge. You can see your storage status under "Settings [Gear Icon] > General". Individual files are limited to 200 MB in size. Files shared with you by others do not count against your storage consumption.
File Types
Their site states that files of any type can be uploaded. I uploaded various test files of PDF, PNG, JPG, DOCX (Word Documents), and XLSX (Excel Spreadsheets) formats and they all worked fine and were able to be shown by their in-browser viewing tool. As for what files to store, they provide a suggestion list in their FidSafe Fundamentals Kits here.
User Interface and Design
Here is a screenshot of the main dashboard. The user interface is clean, mobile-friendly, and relatively intuitive. They offer a brief walkthrough tour, and I found it easy to get started right away. (It really shouldn't be that complicated in any case…)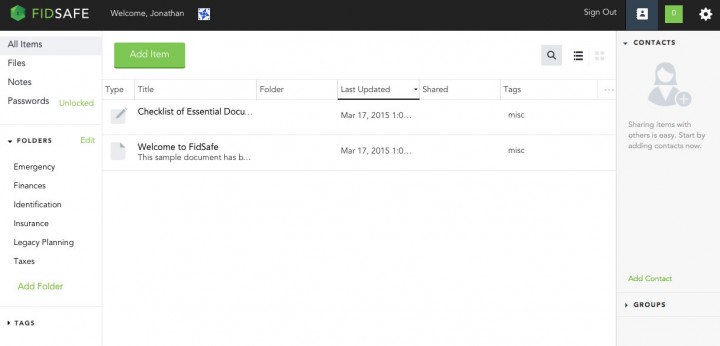 Sharing Documents With Others
You can either choose to share specific personal documents with other users all the time, or designate someone to have access to all your documents only upon death. In both cases, the person you are sharing with must be invited through via e-mail and sign up for their own FidSafe login and password (and provide name, e-mail, birthdate).
For immediate sharing, your designated "Contact" can only view the specific documents you share with them. You can choose to give them view-only access or add the ability to download.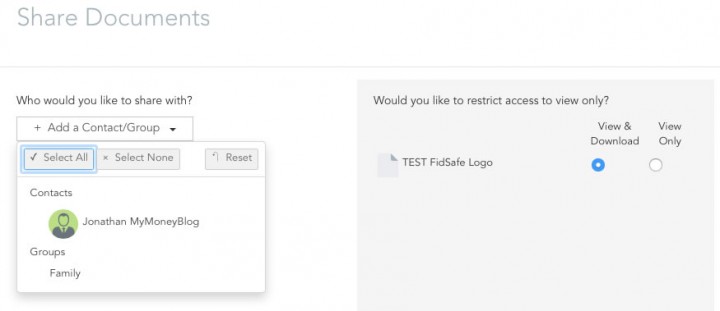 Here are some details on the "Share Upon Death" feature:
To sign-up for the service, under "Settings" you will provide the last 4 digits of your SSN and a designee (one of your existing FidSafe contacts). Upon notification of your death, FidSafe verifies your death certificate and shares your FidSafe content (only documents and notes; passwords are not shared) in the designee's FidSafe account. Any time after signing up for this service, you can change the designee or unsubscribe to the service.

[…] When FidSafe is notified of your death (by family member, attorney, etc.), FidSafe collects the notifier's contact information (first name, last name, email address, phone number) and decedent's information (first name, last name, email address used for FidSafe registration). FidSafe will also need a copy of decedent's certified death certificate mailed to the following address – Fidelity Labs FidSafe Support, 245 Summer Street V3A, Boston, MA 02210. If the death certificate is verified, FidSafe will share decedent content in designee's FidSafe account.
Support
Call 800-453-3332 or e-mail support@fidsafe.com
Conclusions: The Good
Having a secure, central place where you store your family's important documents can be quite useful for estate planning and other needs. There may be an emergency (fire, natural disaster, medical) or you might just be applying for a mortgage or a new passport.
Providing online access can make things much easier if important people live far apart.
There are numerous start-ups out there now that try to combine digital storage and estate planning, but FidSafe is backed by an established, reputable company (that may have a lot of your personal information already).
All available security mechanisms appear to be supported, including two-factor authentication and file encryption. I'm not sure what additional measures could be added.
Did I mention it's free?! Other places can charge $75 a year.
Conclusions: The Concerns
The fact that this is a free feature can also be seen as a negative because what happens if Fidelity feels a need to "reorganize" or "streamline" their operations and discontinue the service. It probably isn't a huge expense but it surely costs something to support. This is the type of service you'd want to be around indefinitely.
If you choose to share sensitive documents with other people, then you are depending on them to keep your information secure. If you share your file with someone who uses the same password everywhere or downloads the file onto their home computer (or even prints it out), then that can become the weakest link. Making things view-only is a partial solution.
FidSafe is digital-only, so original documents still need to be stored securely (although you can note their locations in FidSafe). You should also consider an offsite, physical backup of any computer files in someone else's safe or a bank deposit box. (This Forbes article says high-quality optical discs may be more reliable for long-term storage than flash drives and hard drives.)