Fidelity has a new tool called the myPlan retirement calculator. It's very soothing and is only 5 questions long, why not give it a whirl? What I like about it is that it doesn't just deal with average numbers. People like to use round numbers like 8% annually and pretend like they are a sure thing, but the fact is with some bad timing we could end up doing a lot worse.
Using some rough numbers from our own situation – age 28, $100k income, $100k saved so far, $2,500 saved monthly, Aggressive Growth investment style, we get the following result: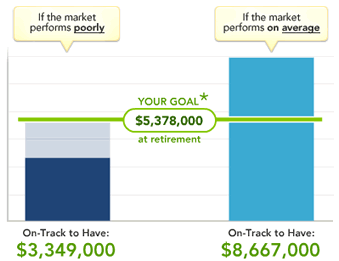 Not bad, right? If the market performs on average, we will easily exceed what we need to retire on. (Yes, the numbers are huge!) If the market performs poorly however, we'll be significantly short. Now, what if we change the investment style from Aggressive to Conservative?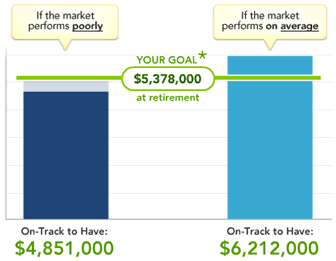 As you can see above, this improves my Poorly scenario significantly, while worsening my Average scenario. But overall, I am virtually assured of being very close to my goal amount regardless of luck. This poses an interesting question: Should those that are saving significant amounts of money towards retirement choose a less aggressive portfolio in order to better guarantee reaching their savings goal? Or should they just play off the averages?
I suppose in theory if someone saved enough they could simply invest entirely in inflation-protected bonds that guarantee a real return. I'm also confused as to whether the calculator is crudely assuming that I would keep the same asset allocation for the entire period from age 28 to 65. Your thoughts on this and the calculator overall?