It's time for another bi-monthly update on my investment portfolio.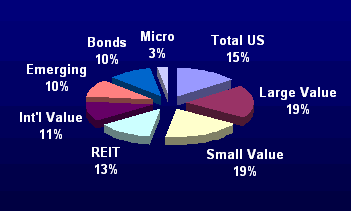 Retirement Portfolio
Fund
$
%
FSTMX – Fidelity Total Stock Market Index Fund
$11,212
15%
VIVAX – Vanguard [Large-Cap] Value Index
$14,057
19%
VISVX – V. Small-Cap Value Index
$14,184
19%
VGSIX – V. REIT Index
$9,781
13%
VTRIX – V. International Value
$8,052
11%
VEIEX – V. Emerging Markets Stock Index
$7,814
10%
VFICX – V. Int-Term Investment-Grade Bond
$7,631
10%
BRSIX – Bridgeway Ultra-Small Market
$2,109
3%
Cash – Unreinvested Dividends
$500
–
Total
$75,340
December and January Fund Transactions
$500 deposited in 401k, not yet invested
Thoughts
Another two months with little activity in my low-maintenance portfolio. I don't get the joy of reading about my fund picks in magazines, but I don't worry about choosing the wrong one either.
I am still ironing out a slightly tweaked asset allocation, one that has a more balanced domestic/international distribution and something I hopefully won't mess with again for a long time. I'm reviewing the model portfolio comparisons and the books they came from, including Ferri's new book All About Index Funds.
You can see some older posts on how this portfolio came to be here, as well as my previous portfolio snapshots here.