When I first heard about online check deposit a couple years ago, I was pretty excited. I loved the idea of scanning in checks from your home computer any time of day without the hassle of going to the bank or waiting for snail mail. But at the time only few banks offered it like selected credit unions and USAA, both of which had membership restrictions.
I actually forgot about it for a while, until I noticed last week that online bank EverBank started offering it on both their Yield Pledge Money Market and FreeNet Checking accounts. (See post on 1.10% Intro APY at EverBank.) Since I already had an account, I immediately signed up, tried it out, and am now hooked. How about a review for the curious?
Application Process
To be eligible, you must have an existing personal account (see above), and a computer with a TWAIN-compliant scanner (pretty much anything bought within the last five years).
Download the application form and fill it out. Don't forget to fill out the Security Code at the bottom, as my first form was rejected since I didn't know what that referred to (had to call customer service).
Fax or mail the form in. I found it amusing that in order to get online check deposit, I had to use a fax machine. Well, not really, you could just use a service like faxzero.com since there is no extra-sensitive information required on the form.
Wait for the welcome e-mail, which should arrive within two business days. The title will be "You can start using Online Check Deposit" and inside will be your new login and temporary password.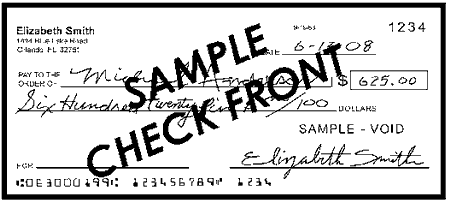 Making An Online Deposit
Here's a flash video with detailed instructions, but it's really long and slow-paced. Just read this:
Log in to the special website at www.EverBankOnlineDeposit.com. This is not the usual Everbank website, but it checks out legit. Log in with your separate login and password.
Click on the "Make A Deposit" link on the left. A java applet will load. The software will look for attached scanners. Choose the one you wish to use. [screenshot 1]
Scan the front of your check and approve it. [screenshot 2]
Scan the back of your check and approve it. [screenshot 3]
Submit after confirming the deposit details. [screenshot 4]
You'll receive one e-mail immediately that your deposit was received.
Wait for the e-mail will say it was approved and processed. This should arrive either the same day or next day. At this point, your check is considered deposited, and you are supposed to shred or destroy the physical check.
Other Details
Another advantage is that you can gain access to your funds sooner (and also start earning interest). Here are the details for funds availability. I think I read that any check over $5,000 will still be subject to holds.
Same business day credit for deposits scanned, submitted, and approved before 7 p.m. ET on a business day. Deposits made after 7 p.m. ET or on a non business day will be credited on the next business day. See the Funds Availability section of the Account Terms and Disclosures for information on access to funds.
I got this all to work fine on the first try on a Windows PC, but I could not get it to work on Mac OS X. I called customer service and they indicated that it was common for Macs to have problems with TWAIN drivers. While they said they could help me work through it, it would be a tedious process and may have to be repeated each time I wanted to make a deposit. (Basically, if you have a Windows computer, use it instead.)
In the end, after getting set up the first time it was a total snap. I often hold on to check for days if not weeks until I get around to going to the bank. Now, it just takes a minute. Scan, flip the check over, scan again, and I'm done. If needed, I can even use their free online fund transfers to move the money elsewhere. I can't believe the mega-banks don't provide this option already.