This interesting chart from the Appliance Standards Awareness Project shows how dramatically cheaper and more energy-efficient new refrigerators have gotten over the last few decades. Even as the average size has grown slightly, since 1980 the average cost has dropped by roughly half while the annual energy usage has dropped by nearly 2/3rds.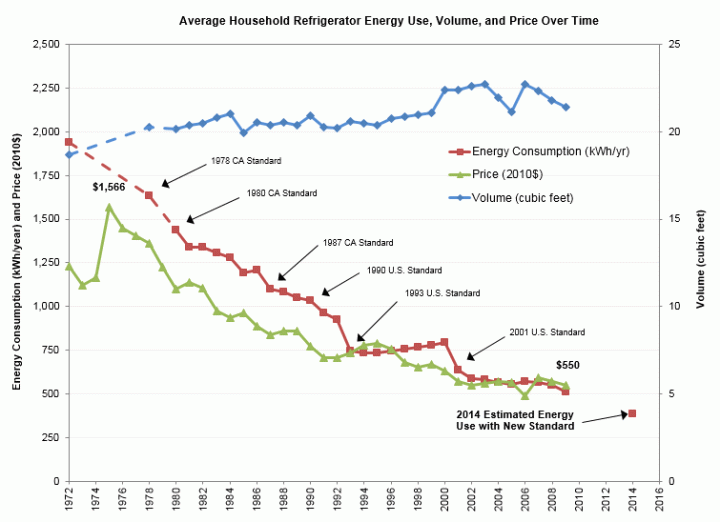 This WaPo article says this means it's wrong to have a second refrigerator. Keeping your old, energy-wasting fridge could cost you $100 a year or more in extra electricity costs. At that rate, it may be better to either throw out the old fridge or even buy a new one.
Doing the math. If you don't have your specific energy usage numbers, a fridge built to 1980 standards would use approximately 1,000 kWh more per year than a 2014 model. At the national average of 13 cents per kWh, that's $130 a year. (I would recommend checking your own power bill because your actual per-kWh electricity cost could vary significantly.)
This caught my eye because we have an extra standalone freezer. It may use additional electricity, but it also reduces grocery trips and allowed me to fit 20 pre-made slow cooker meals inside at one time! More on that experiment later.