I've realized that I am in the minority when it comes to driving. I put on maybe 6,000 miles a year. Many people log over 20,000 miles on their car every year! If you are one of these road warriors, I just got e-mailed about the Citi Driver's Edge Platinum Select MasterCard (Thanks JW). It looks great in multiple ways:
» You get rewards just for driving. You?ll earn $1 in Drive Rebates for every 100 miles you drive?up to $500 in Drive Rebates a year. Drive 20,000 miles a year? That's $200 a year just for driving! To track miles and get rebates you just mail in your receipt whenever you get an oil change or other receipt.
» 6% cashback on gas for the first year. Obviously driving a lot = $$$ for gas. Assume you get 20 miles per gallon. Driving 20,000 miles, that's 1,000 gallons. At $3 a gallon, that's $3,000. Times 6%, that's another $180 cashback on gas alone.
» You also get 6% back at supermarkets and drugstores for the first year (3% after that). That beats out the Citi Dividend Card (which I have) for the first year. You earn 1% on everything else. Here is Citi's example chart of how this could add up: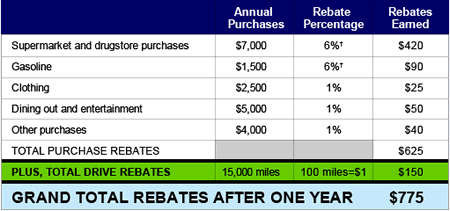 » There is a cap of $1,000 per year, which is significantly higher than the $300 or the Dividend card as well and allows you to rack up more cash.
Come to think of it, this is not a bad card just to keep around. If you drive 10,000 miles in a year, that's still $100 a year just for
driving. There is also no annual fee. What other card does that?
Rebates do expire if you don't make a purchase in a year or if you don't redeem within 5 years. Not too harsh. It's all spelled out in the fine print on the application, so be sure to save a copy.
There is also a 0% APR balance transfer offer with this card, and as such is for people with good credit. But do not use it if you want to get these rebates. Remember, all payments go towards the balance at lowest interest rate.
What's the catch?
The DriveRebates are redeemable as straight cash only towards car expenses. But that's any car expenses – buying a car, leasing a car, oil changes, new tires, repairs, etc.
But, they can also be converted to ThankYou points. Each $1 in Driver?s Edge rebates is equivalent to 100 ThankYou Points, or put another way $100 in rebates can be converted to a $100 Gift Card at Target, Chevron, Gap, etc. Note: If you have student loans, you can still get straight cash towards those.
I think the easiest way to cash in on these points is just to get gas cards. Sure, you won't be able to get 6% back anymore by buying with this credit card, but even after accounting for that you're still getting 5.64% back which is still very good.
Hmmm…
As I write this, I'm convincing myself more and more to apply for this card. Even if I only drive 6,000 miles a year, that's $60 – which will basically pay for all my oil changes and tires every year.
Update: I applied for this card myself, going to redeem for either gas or a set of tires.