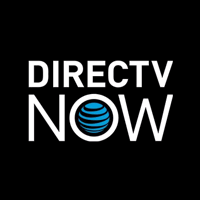 Attention cord-cutters! DirecTV has gone live with their new streaming TV service called DirecTV Now. This join existing competitors Sling TV and Playstation VUE. Here'a an image that breaks down the $35/$50/$60/$70 per month tiers (click to enlarge). HBO and Cinemax can be added on for $5 a month each. Below are a list of current promotions as well as brief pros and cons.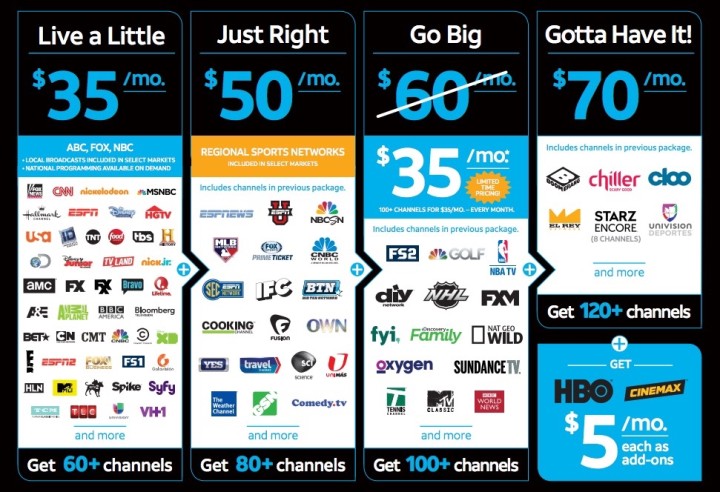 Current Promotions.
Free 7-day trial for everyone. Credit card is required, they will auto-bill you at the end of the 7 days.
"Go Big" Package is $35 a month for a limited time. Regular price is $60 a month. Here is their exact wording on future pricing: "Customers who sign up for this offer will continue to enjoy this special price for as long as you keep the package, subject only to future reasonable programming price increases applicable to all packages."
Free 4th-gen Apple TV ($149 retail) with 3 months pre-paid of any DIRECTV NOW package. You'd basically be paying $105 for 3 months of service and an Apple TV.
Free Amazon Fire TV Stick with Alexa ($40 retail) with 1 month pre-paid of any DIRECTV NOW package.
Pros.
Competitive price, more niche channels. The channel line-up does differ from Sling and VUE – check this CNET table for a specific network. DirecTV in general includes more niche channels in its packages.
Simplicity. No installation fees, satellite dishes, annual contracts or credit checks required.
Cancel anytime. You can cancel or pause your subscription online without calling in.
AT&T Wireless customers get free app streaming that won't use up mobile data limits. This is a handy feature if you have AT&T service already, but such favorable treatment is not good for net neutrality.
Cons.
Limited local network broadcasts. Depending on where you live, you may not get live local network broadcasts from ABC, FOX, or NBC. However, you can see some network shows on demand the next day. CBS is not included anywhere.
No DVR capabilities. You can't pause live TV or record anything. DVR features are supposed to arrive "sometime in 2017". To mitigate this, DirecTV has added in video on demand from many networks after a 72-hour delay. In other words, you can still watch a bunch of shows later on at your convenience, but not everything.
Sling TV has a basic $20 a month level. Sling TV's lowest tier includes 30 of the more popular cable networks (ESPN, CNN, TNT, TBS, Food Network, etc) but is only $20 a month. The lowest tier for DirecTV Now is $35 a month.
DirecTV Now limits you to two simultaneous streams on different devices (ex. TV + iPad). Sling and Playstation limit you to three simultaneous streams. This may or may not affect you.
Compatibility. Works with the following for now. Notably, Roku boxes and Samsung Smart TVs are not yet compatible.
Amazon Fire TV and Fire TV Stick
Android mobile devices and tablets
iPhone, iPad and Apple TV
Chromecast (Android at launch; iOS in 2017)
Google Cast-enabled LeEco ecotvs and VIZIO SmartCast Displays
Internet Explorer, Chrome and Safari web browsers
Commentary. A little preview of the future. DirecTV differentiates itself with volume, offering more channels than streaming competitors. The current promotions basically get you a free streaming unit from either Apple or Amazon. The free data allotment for AT&T customers is unique and ideal for those who watch TV away from WiFi. (AT&T now owns DirecTV.) If I'm going to cut the cord, $35 a month is probably close to the max I'd pay for live content given I'm likely also paying for NetFlix. Personally, the lack of DVR capabilities continues to be a deal-breaker for me.