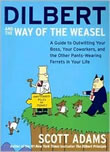 The story goes that Scott Adams wanted to publish this as a one-page book, but he couldn't find a publisher to do it. In fact, he is quoted as saying that "if God materialized on earth and wrote the secret of the universe on one page, he wouldn't be able to find a publisher" either on CBS Marketwatch. Instead, he weaved it into a Dilbert cartoon-based book called Dilbert and the Way of the Weasels (368 pages).
Everything else you may want to do with your money is a bad idea compared to what's on my one-page summary. You want an annuity? It's worse. You want a whole life insurance policy? It's worse. You want to invest in individual stocks? It's worse. You want a managed mutual fund instead of an index fund? It's worse. I could go on, but you get the point.
Overall, the book is pretty funny if you like Dilbert and understand the corporate hell that he lives in. Otherwise, without further ado, here is Dilbert's One-Page Guide to Everything Financial:
Make a will.
Pay off your credit cards.
Get term life insurance if you have a family to support.
Fund your 401k to the maximum.
Fund your IRA to the maximum.
Buy a house if you want to live in a house and can afford it.
Put six months worth of expenses in a money-market account.
Take whatever money is left over and invest 70% in a stock index fund and 30% in a bond fund through any discount broker and never touch it until retirement.
If any of this confuses you, or you have something special going on (retirement, college planning, tax issues), hire a fee-based financial planner, not one who charges a percentage of your portfolio.
From Vanguard article:
Does Adams live by his financial rules? For the most part he does. Adams said he's allergic to debt and makes a habit of saving half of his income.

"I found that people who had massive credit card debt were asking me how they could invest in stocks, or how they could borrow money from their credit card to invest in stocks," the cartoonist recalled.

However, Adams said he no longer follows his rule to invest 70% in a stock index fund and 30% in a bond fund. The best-selling author says he invests primarily in municipal bonds today, which are tax-exempt, and also owns land in his adopted home state of California.
If I had his amount of money, I'd probably be investing only in muni bonds as well!