As outlined in this previous post about One Way To Track Your Progress Towards Financial Independence, you can say you've reached financial independence when your "passive" investment income equals your monthly expenses ("crossover point"):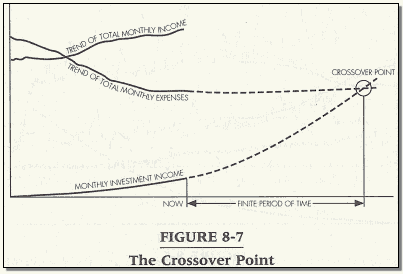 The above chart was taken from the Your Money or Your Life, which also says the best way to generate income is by purchasing 30-year Treasury Bonds. But there are a variety of other ways that retirees generate income for retirement. Each one has their own pros and cons.
High-Grade Bonds or Certificates
U.S. Treasury bonds are a very safe and reliable way to generate regular income, as it is guaranteed by the U.S. government and they are very liquid. A similar situation results you invest in bank CDs or other investment-grade corporate or municipal bonds. The primary drawbacks are lower returns, especially relative to inflation. The 30-year bond is currently yielding somewhere around 4.5%. The current real (above inflation) yield for a 20-year TIPS (inflation-indexed bond) is only about 2.20%.
This means that if you want both the highest safety and you wish to only live off the interest of your money without ever touching the principal, you can only withdraw about 2.2% each year. That's only $183 per month for each $100,000.
60/40 Asset Allocation with 4% Safe Withdrawal Rate
Although there is still much ongoing debate, the "4% rule" is based on on research by William Bergen:
William Bengen, a U.S. researcher, has back-tested a 4% withdrawal rate with a balanced portfolio of U.S. stocks and government bonds earning overall market returns and found that you would have been able to safely withdraw 4% of your portfolio over any 30-year period since 1926. [source]
The general idea is that if you have a portfolio with an asset allocation of 60% stocks/40% bonds, you can withdraw 4% of the portfolio each year with only a small chance of running out of money somewhere down the line. A 4% withdrawal rate would be $333/month for each $100,000. However, your portfolio will experience wilder swings, and this rigid method is very sensitive to the returns in the first years of retirement. If you have a bad decade upfront, your chance of going broke rises quickly.
Income-Focused Mutual Funds
These are mutual funds who primary objective is not growth, but to create a stable income stream from a combination of stock dividends and bond interest. The secondary objective is some capital appreciation, which ideally will help the income stream to keep up with inflation.
A passive index fund example is the Vanguard Target Retirement Income Fund (VTINX), which is currently yielding 4.05%. A popular actively-managed example is the Vanguard Wellesley Income Fund (VWINX), which is currently yielding 4.71%. Both of these funds hold roughly 35% in stocks/65% in bonds. Wellesley has been around since 1929, and many retirees swear by the reliable income it produces.
Managed Payout Mutual Funds
A new breed of mutual funds actually adjusts to help you spend your money as fast as you like. You choose how fast you wish to withdraw your money (3%? 5%? 7%?), and the fund does it's best to accommodate that without going broke. Vanguard has their Managed Payout Funds, and Fidelity has their Income Replacement Funds.
These funds help you create regular monthly payments like an annuity, but still include risk from the stock market. They are also very new and could be seen as unproven.
Individual Dividend Stocks
I know of several retirees who manage their own portfolios of individual stocks. These people accumulate shares in companies with a history of reliable stock dividends, like General Electric and Coca-Cola, and live off the dividends. An ETF of top dividend producers, DVY, currently yields 5.14%.
I would be wary though that the share value of these stocks can vary widely without the cushion of bonds. DVY has dropped by over 20% so far this year, which is indicative of many similar dividend stocks.
Income Annuity
With a simple version of an immediate annuity, you hand over a lump-sum upfront in return for fixed income payments for life. Of course, if you die early then you don't get your lump sum back. However, you could live until 110. It's almost like life insurance in reverse. A special risk here is that your insurance company must stay solvent the entire time, so you must check credit ratings.
I went to ImmediateAnnuities.com and looked into a Joint Annuity, where the income payments keep coming as long as one of us are alive. A rough quote for a 40-year old says that each $100,000 paid will get me about $450 a month. That is the same as saying I can earn 5.4% interest forever, but remember that I lose the principal. Of course, this value goes up with age. For a 60-year old couple, you can get 6.4% forever. At age 70, you can get 7.5% forever.
How much income will a million bucks get you?
Based on these numbers, with $1,000,000 one could get anywhere from $1,830 a month (very little risk, no principal loss) to $5,833 per month (fixed annuity at age 65, all principal is given up). I'd probably end up going with something in between, but it is food for thought.