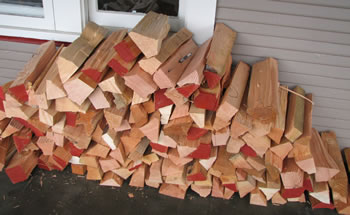 We just bought a 1/3 cord of firewood for $50 off of Craigslist (only partially shown above), figuring we'd try out our new fireplace this winter. But then I ran across this article about how conventional fireplaces are useless:
As a fire burns in a conventional fireplace lot of warm house air is sucked past the leaky door and up the chimney. The air sucked up the chimney is replaced by cold outside air that has to be warmed up to a comfortable temperature by your oil, gas or electric furnace.
Now, this may be true, but does that counteract the radiative heat from the flame/hot fireplace surface area? Oh well, I'm not paying $2,000+ for a new fireplace insert. We set up our couch right in front of the fireplace so it is very toasty and romantic.