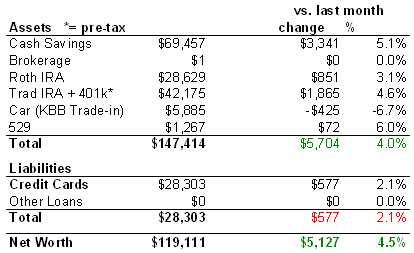 (image fixed, it was wrong initially)
About My Credit Card Debt
Newer readers may be alarmed by my high levels of credit card debt. In short, I'm borrowing money for free and keeping it in safe investments while earning me interest. Along with other things, this helps me earn extra side income of thousands of dollars a year. Recently I put up a detailed series of posts on this 0% game. Please check it out first if you have any questions, it should contain answers to most of them.
More Thoughts
Another bullish month in the markets leaves us with almost another $3,000 increase in our investments. I have again separated out my 529 account. This more clearly shows that I still own no individual stocks at this time. Otherwise, we are making the proper progress towards our mid-term goal of $50,000 in non-retirement funds for a house down payment. Our holiday shopping made a little dent in that, but that was within our expectations. I also made an extra $150 with a credit card signup.
I've now made a central page where you can track my retirement investment portfolio. It's open for all to see, and is very low-maintenance. In fact, writing this update is just about the only time I actually look at my portfolio balances besides my annual re-balancing.
Finally, I've made another page to show our net worth history. Here you can take a look at how far we have come so far in our journey to financial independence (as well as how far we have to go). Remember, it's not for comparison, just for curiosity purposes 🙂