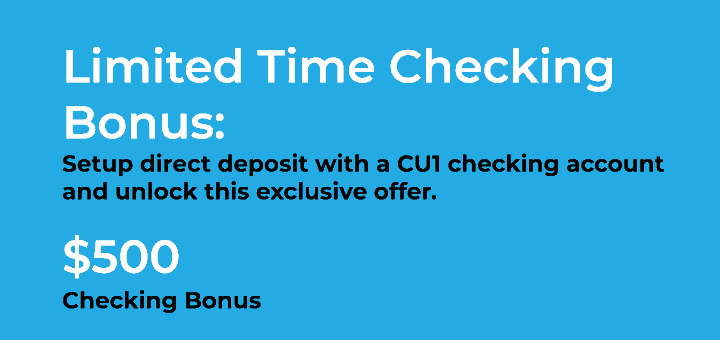 Credit Union 1 (CU1) has a $500 checking account promotion with qualifying direct deposits. Available to both new and existing customers who haven't set up direct deposit yet. Based in Illinois, CU1 membership is open nationwide through membership in the Credit Union 1 Educational Development Association (one-time $5 CU1EDA fee + additional one-time $5 CU1 membership fee). Hat tip to reader Chuck. Offer expires 9/30/22.
$500 Direct Deposit bonus steps.
Open a CU1 Checking Account. Open a checking account with CU1 online and use Promo Code CHK500, at your local branch or by calling. Must open with $25 minimum or a $500 direct deposit. Already a member with a checking account? Setup your direct deposit in digital banking and call our team to mention the "$500 checking offer".
Set up direct deposit ($1,000/month for 3 months). Establish direct deposit activity within 60 days of account opening or by September 30th, 2022. Minimum recurring aggregate total direct deposit of $1,000 per month for three (3) consecutive months.
Receive your $500 checking bonus. The $500 bonus will be deposited into your account following three (3) consecutive months of qualifying activity. Bonus will be paid by deposit into your CU1 checking account within 7 days of meeting all qualifying criteria.
Note: Must keep the checking account open for at least 12 months after opening.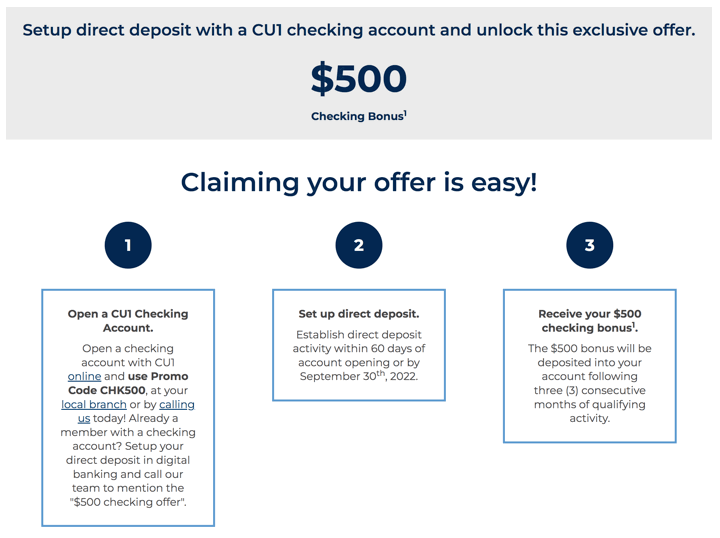 Offer fine print:
1 To redeem this offer you must use Promo Code: CHK500 before September 30, 2022. Offer not available to existing members who already have direct deposit coming into a CU1 account, those whose accounts have been closed within 90 days, or closed with a negative balance within the last 3 years from the date of use of the Promo Code. Promo Code is only good for one-time use and is not redeemable with any other offers. To receive $500 bonus: (1) Within 90 days of use of the Promo Code, you must establish and receive a minimum recurring aggregate total direct deposit of $1,000 per month into a new or existing CU1 checking account. (2) Your direct deposit must be from an electronic deposit of your paycheck, investment account, pension or government benefits (such as Social Security) distribution from your employer or government agency. Person to Person transfers or payments are not considered a direct deposit. Bonus will be paid by deposit into your CU1 checking account within 7 days of meeting all qualifying criteria. To receive the bonus, the checking account must not be closed or restricted at the time of payout. Bonus is considered interest and will be reported on 1099-INT. Offer may be cancelled at any time without notice.

Account Closure: If the checking account is closed by the member or by CU1 within 12 months after opening, we will deduct the bonus amount from the checking account at closing.
Free Checking details.
No monthly maintenance fee.
CO-OP ATMs access. Get cash surcharge-free at more than 30,000 ATMs nationwide
No fee for online statements, $3 monthly paper statement fee unless age 65+.
Inactivity fee of $25 a month if no activity for 12 months.
Application experience and tips. Here are some tips based on my account opening experience from outside Illinois.
Note: CU1 performed a hard credit inquiry on Experian as part of my application. I don't like this practice but many credit unions do this.
Applied online via promotion link above.
Enter your personal information including name, address, drivers license/ID, Social Security number, and so on. They will ask for a scan of the front and back of your photo ID.
Be sure to enter the promo code CHK500 when prompted towards the end of the application.
My initial deposit was via external checking account by providing them account and routing number. There was no option for credit card funding.
Your minimum deposit should be $40 by my math: $25 Free Checking minimum initial deposit, $5 CU1EDA, $5 minimum for Share Savings account, and $5 CU1 new member fee. See screenshot below.
After my online application was submitted, within an hour they asked for supporting documentation: another scan of front/back of ID, proof of address (utility bill, paystub), and proof of SSN (scan of SSN card or W2 2021). I submitted via email (can also fax) and my account was approved the same day.
Registered for online access and logged in to find out my checking account number. Also look under "Services > Setup Direct Deposit". Routing number is 271188081.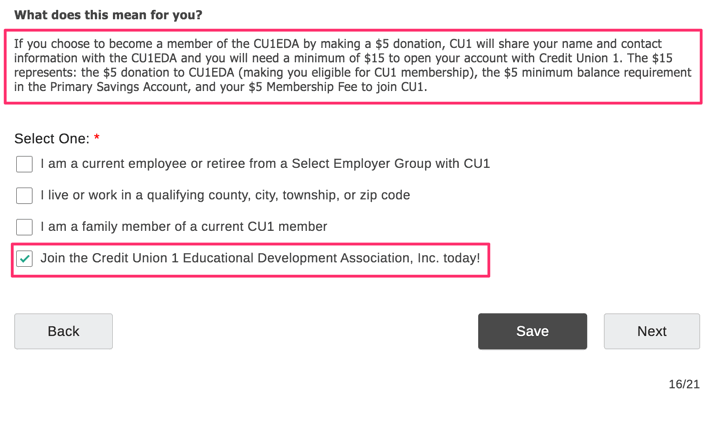 CU1 looks eager to expand, as they have multiple other competitive offers while also recently acquiring Northside Community Bank in June 2022.
44-month CD at 3.00% APY + up to $500 bonus:


LIMITED TIME OFFER : Get an up to $500 Bonus2 when you open a 44-Month Share Certificate. There is a $1,000 minimum balance requirement to open the Share Certificate, and you can receive a bonus payment2 when you deposit NEW money over $100,000!

$100,000 – $249,999 deposited | $250 one-time Bonus Payment2
$250,000 and over deposited | $500 one-time Bonus Payment2

22-month CD at 2.25% APY. Rates as of 8/29/22.
Need a big mortgage? They have what they call The Lowest Jumbo Rate Ever with possibly waived PMI, 80/10/10 structure, and $400 closing credit.
Auto Loan rates starting at 5.24% APR for up to 60 Months + $100 bonus:


To qualify for the $100 bonus, there is a $15,000 minimum loan amount and loan must close within 30 days from the application date. Offer does not apply to existing Credit Union 1 loans or the refinancing of existing Credit Union 1 loans. Bonus will be deposited into the member's CU1 account at the loan closing. Bonus will be reported on 1099-MISC.

If you live near a branch, it is also notable that they have a page on savings bonds which states that Credit Union 1 members can redeem US Savings Bonds at any branch location. This is nice to see, as many banks barely seem to know what a paper savings bond looks like nowadays.
Let's hope they handle this promo better than certain other credit unions (*cough* Teachers FCU) and give them a chance to earn our continued business through their competitive term certificate, mortgage, and car loan rates.