Updated with new 5% off code. CouponTrade.com is another marketplace for unused gift cards. You can buy gift cards from other individuals at a discount from face value, or you can sell your gift cards (partial balances okay) at a price that you name and get cash instead.
The main difference between CouponTrade and other gift card sites like PlasticJungle is that at CouponTrade the seller sets their own price as opposed to fixed pricing. Therefore, you have a chance at selling at a higher price than competitors, or buying at a lower price. For example, at times sellers will curiously list at full value, turns out in the hopes that someone has a coupon code that CouponTrade will honor on their end.
Buying fees details. There are no fees for the buyer, just pay the listed price and get free shipping. Sometimes you'll find a great deal, other times the prices are too high, and finally many times there will be no stock at all. After the holidays, activity should pick up. Here are currently active coupon codes:
GIFT4U – $5 off $50, existing customers eligible, can only be used once, can't be combined with additional coupons. Expires 12/2/12.
CTHOLIDAY – 5% off, new customers only, can't be combined with additional coupons. Expires 12/31/12.
Selling fees details. If your gift card does not sell, you won't be charged anything. If your gift card does sell, the standard fees are a flat 10% commission plus a listing fee of $1.75 for a physical gift card and $0.99 for an electronic e-gift card sale. You can choose to get paid via check, Amazon gift certificate, or Paypal. Current promo codes:
4FREE – Free listing fee. Expiration unknown.
SELL5 – Half off gift card fees (regularly 10%). One time use only, one single gift card listing. Cannot be combined with other offers. Expires 1/31/13.
Looking for where to enter your promo code at CouponTrade? Here are some sample screenshots:

Buying: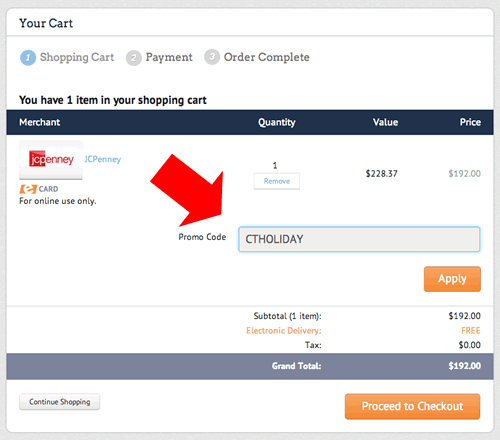 Selling: