The Center for Economic and Policy Research (CEPR), a non-governmental economic think-tank, is very upfront about its views on the housing bubble. For a clue as to what they are, check out this article titled "The Menace of an Unchecked Housing Bubble". They draw several parallels with the tech stock market crash of the late 90s. While there is a lot of other articles of note, I was drawn in by their Housing Cost Calculator:
This calculator compares the cost of owning a home relative to renting for a potential new homeowner. The Housing Cost Calculator reports the "Net Cost of Owning" — the expected amount of additional cash available to a renter compared to the amount available to a homebuyer who buys a home today and sells the home at a specified time in the future. The calculator takes into account the unprecedented run-up in real home prices since 1997.
In other words, it says that housing prices will revert back to its historical tendency to keep in step with inflation. Remember this chart?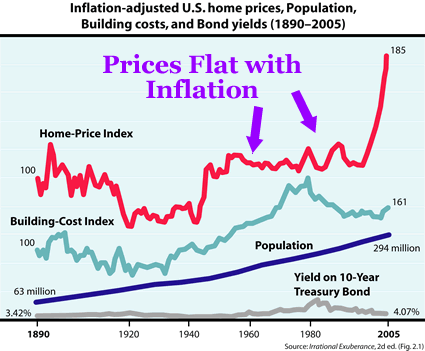 Example Calculator Input
I put in that I am looking for a $500,000 house in San Francisco/San Mateo, CA. I want to put down $100,000 at a fixed-rate of 6.35% for 30 years. I am in the 25% tax bracket and plan to itemize deductions on my taxes.
This is the first calculator I've seen that automatically takes into the account the geographical area that you choose. So Provo, Utah is different than San Francisco, California.
Results
Your basic costs start at $2,900 per month. However, if you can rent a similar home for less than $6,300 per month, you may be better off renting.
Well, I can definitely rent that kind of house out for less than that. Let's see what else they say. It tells me that the sell price in 5 years will be a mere $222,000, a 56% decrease. If I sell in five years, I will not only lose $116,700 when selling the house after commission, but I could have saved another $94,700 on monthly housing costs. Total loss in 5 years: $211,600. I'd have to keep the house for about 15 years to break even.
Screenshot: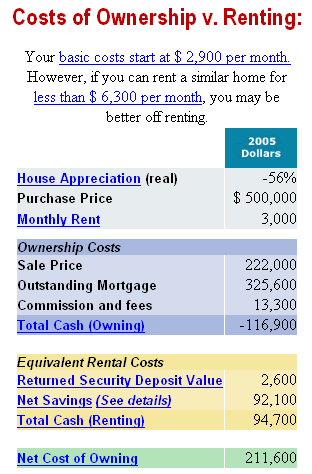 A lot of simplifications were made to get these numbers. For instance, the calculator assumes that house prices will drop instantaneously by the amount that they have risen in excess of inflation. So no matter if I keep the house for 1 year or 30 years, the house price will forever be an inflation-adjusted $222,000.
These numbers seem a bit drastic. But hey, I'm not a Nobel Laureate. As a current renter, I don't know if I should be happy or depressed by this news either! Do I have the patience to wait it out and see if these guys are right? Probably not.