I am now the proud owner of over $7,000 in hardwood flooring. It cost as much as my car! We charged it to our Citi Cash Returns card in order to grab the extra cashback at the time, which saved us another $350 on top of the $400 we got back last month for paying our taxes owed with it.
Types of Flooring Available
If you've ever thought about installing your own flooring, here is a quick review of our thought process. There are three major choices these days:
Laminate Flooring. Also called "Pergo", after a popular manufacturer. This is essentially a picture of what hardwood looks like, glued on top of wood chip composite. Think Ikea furniture. It the cheapest type, you can easily install it yourself, but it can't be refinished.
Traditional Hardwood Flooring. This is a entire piece of solid hardwood. More expensive, hard to install yourself, can be refinished multiple times, will probably outlive you.
Engineering Hardwood Flooring. This is 1/16″ to 3/16″ of real hardwood glued on top of a plywood base (see picture). It costs about as much as traditional hardwood (or even more if comparing to unfinished hardwood), but you can install it yourself which can result in a net savings. With a quality floor, you can still refinish 1-2 times if desired.
Our Decision
Unless you're really experienced and have lots of time, most DIY people either choose laminate flooring or engineered hardwoods. We first looked at laminate, aka "Pergo". Laminate flooring is really affordable, starting at about $1.50 per square foot (sf). It can also be more scratch-resistant. However, if a scratch or a moisture bubble does occur, you can't really do much about it. I think laminate is a perfectly fine flooring choice, but we personally did not like the look of it. I've been to nearly 100 open houses, and I can spot laminate flooring instantly; it simply does not look like real hardwood.
I'm probably biased though, because our last two houses both had some beat-up hardwood floors that were over 50 years old, and we loved the the look. Scratches, dents, and age simply added character to us. With a good engineered hardwood, you can get a wear layer that is nearly as thick as solid hardwood, and can also last indefinitely. In the long run, we felt that paying more for the look and durability of real hardwood was worth it to us. After installation, you can't tell the difference between solid hardwood floors. A high quality engineering hardwood can cost $5/sf or more, but they start at around $3/sf.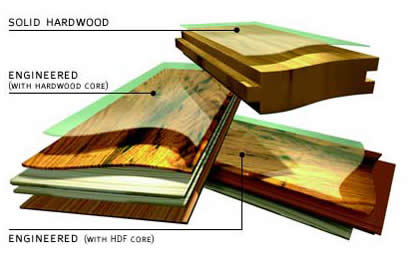 Resale value wasn't really a huge concern for us, but is something to consider. I'm sure real hardwood flooring adds more value to a house, but I don't know if all of the cost differential between hardwood vs. laminate is recovered.
Installation
The easiest type of installation for a weekend warrior is the floating floor setup. First, you need a flat subfloor. This could be an old floor like vinyl, ceramic, or even an old hardwood floor. Second, you place a thin foam underlayment on that subfloor, which smooths out minor imperfections and also serves as a noise and moisture barrier. Third, you either click or glue together the hardwood pieces so that you have one huge piece of flooring that "floats" on top. Nothing is nailed or glued directly to the house.
Easier said than done, of course, but that's the basic idea. Here are some tips by a professional installer, as well as some pictures from a DIY amateur. Wish me luck!