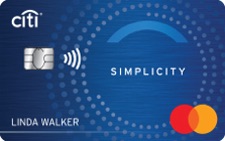 Interest rates are rising, and that applies to credit cards as well. The Citi Simplicity® Card comes with an extended 0% intro period for balance transfers while also offering some "accident forgiveness insurance". Do you have a balance that you are finally ready to pay off? The highlights:
0% Intro APR on balance transfers for 18 months from date of first transfer. All transfers must be completed in first 4 months.
0% Intro APR on purchases for 18 months from date of account opening.
There is a balance transfer fee of either $5 or 3% of the amount of each transfer, whichever is greater
Simplicity = No Late Fees, No Penalty Rate, and No Annual Fee.
Simplicity = When you want to speak to a human, just call and say "representative"
No late fees, no penalty rate details. On most other credit cards, if you make a late payment, you'll first be charged a late payment fee of about $35. On top of that, your super-low interest rate disappears and instead gets jacked up to something called their "default rate" or "penalty rate". This could be over 30% APR! This card adds a bit of flex in that they do not charge penalty rates or late fees.
Note that if you are 30 days late on this or any credit card, Citi will still report this activity to the credit bureaus. This card may be forgiving but you should still keep your credit score as high as possible.
The strongest part of this card is the long 18 month period, so you can spread out payments over 1.75 years and ideally pay it all off by the end. There is a 3% balance transfer fee ($5 min). However, 3% works out to just 3 months of interest at 18% APR. Transferring a balance to this card from a 18% APR card would be the equivalent of paying 3 months interest at 18% APR and then having 15 months with 0% interest. Once the intro period on all 0% cards expire, the rates will go right back up. You'll either need to pay it off or transfer your balance again if you need more time. With this card, you'll have a full 21 months to spread your payments out.
Alternatively, if you are certain that you will pay it off within a shorter time period, look for a card with no balance transfer fee. Compare with other low fee 0% APR balance transfer offers.
This card does not earn any cash back, points, or airline miles. Many times, rewards cards are bad deals for those carrying balances. I'd open a separate card for rewards after your balances are paid off and you join the "Paid in full every month" club.
Bottom line. The Citi Simplicity® Card is best for folks that are serious about paying off their balances. You get a long 0% introductory period of 18 months on balance transfers, with a one-time 3% balance transfer fee ($5 min). The card includes consumer-friendly features that help ensure your low rates don't get hiked with a single late payment. If you do the math and can make adequate payments to pay down your balance over a 18 month (1.5 years) span, this card may help get you debt-free with minimal gotchas. No annual fee.