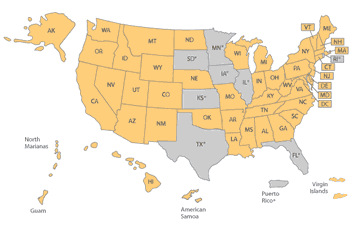 "You may be eligible to receive rebates from your state or territory for the purchase of new ENERGY STAR qualified appliances. These rebates are being funded with $300 million from the American Recovery and Reinvestment Act of 2009. Under this program, eligible consumers can receive rebates to purchase new energy-efficient appliances when they replace used appliances."
Each state is running their own program. California just started their Cash for Appliances program yesterday, and it's much better than I thought it was. Some states have already ended their programs (sorry!).
For example, on a $500 front-loading washer that we were looking at, certain CA residents (by zip code) could get $300 back in rebates! That's $200 from the state of California, $50 from WaterEnergySavings.com (PG&E + local water utility), and another $50 from PG&E. This is on top of the potential water and electricity savings that you'd would get from switching away from an old top-loading washer.
Click on your state on this map for more information. Here are some frequently asked questions.