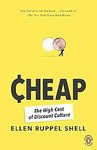 Cheap: The High Cost of Discount Culture by Ellen Ruppel Shell covers a wide variety of topics, but the main idea I got from reading it, was that we are too focused on price, and not enough on value. We have shifted from quality, durability, and craftsmanship towards quantity at the lowest possible price. I previously wrote about how it's harder to judge quality these days as it relates to Coach Outlet stores. Next time you buy something, think about what you actually know about who made the product, the materials or ingredients used, and how long it will last before you have to buy another one.
Thanks to globalization and a relentless pursuit of efficiency, we now have $1 chicken sandwiches, $5 toasters, and $10 IKEA coffee tables. That saves us money, right? However, also notice that it's often the crap in our lives that gets a bit cheaper. The real essentials – rent, education, healthcare, gas, never seem to get less expensive. On top of that household wages are stagnant, partially because all the jobs making stuff have gone to the countries with cheapest labor before our workforce has had a chance to learn to do something else. Look at the current unemployment rate. So are we really coming out ahead?
The book includes an interesting history of the evolution of retailing and the creation of the discount superstore. There was a time before Wal-mart when small shops sold specialized products through educated salespeople. Now, everything is propelled by mass advertising everywhere, followed by do-it-yourself shopping. Now, I personally like reading tons of peer reviews on Amazon before buying a product, but you have to admit that the genius of a store like IKEA is that so much of the cost is shifted onto the consumer. We load up the huge boxes onto a shopping cart ourselves, cram it into our car, drive it back home (paying for the gas), and build it ourselves with hours of labor.
There is also the interweaving of behavioral economics topics you may be familiar with by academics like Daniel Kahneman and Dan Ariely. For example, you probably get excited when you buy something marked down 60% at the mall. We're all genetically wired to get hyped up for that, so it's not surprising. Well, these days basically everything is marked down. Only 20% of department store merchandise is actually sold at full price. If everyone is getting the same "deal", is it still a deal or just manipulation?
On a related note, discount stores often tout "everyday low prices", but they really just try to compete hard on things that we buy most frequently and are most familiar with. Wal-mart actually has higher than average prices on about 1/3rd of its inventory. On the items for which prices are lower, the savings is 37 cents, with about 1/3rd of items carrying a savings of no more than 2 cents. The loss leaders draw us in and make us feel like we're saving money, but the other things we toss in our basket make the profit.
Although some of these trends are unlikely to be reversed, we should remember that it's not all about the price tag. An example of how things "should" work is the grocery store Wegman's, which I am not familiar with but sounds a lot like Trader Joe's on the West Coast. Locally-sourced products, good wages and benefits for employees, and good service create an atmosphere that is not solely focused on price (although it is still an important component).