Via Calculated Risk, Doug Short has a series of charts comparing the movements of various bear markets. The one below compares the Dow starting in 1929 (Great Depression), the S&P 500 in 1973 (Oil Crisis), S&P in 2000 (Tech Crash), and the current bear market starting in 2007 (do we have a moniker yet?).
Click on image for larger version.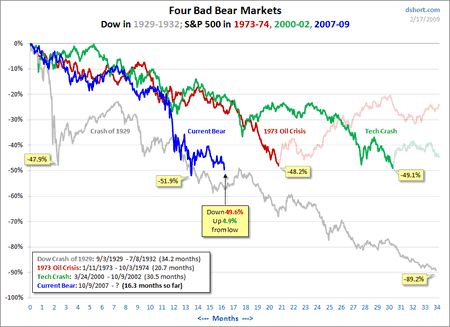 I wouldn't read too much into them, although I do have a thing for pretty charts. 😉 If anything, I suppose we should be prepared for at least another year of fun:
Reinhart and Rogoff mention a three-and-a-half-year average peak to trough decline in equities for past financial crises. As of today, the market peak of October 9, 2007 was about 16 months ago — which would put us well shy of the half-way mark for the average crisis.