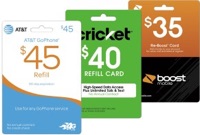 Best Buy has a sale offering 10% off prepaid phone cards. The "top-up" options include Verizon Prepaid, T-Mobile Prepaid, AT&T GoPhone, Cricket, Net 10, Virgin Mobile, Boost Mobile, TracPhone, Simple Mobile, Locus, and H20.
Cricket Wireless (uses AT&T network) offers a $40 a month plan ($35 net after $5 AutoPay credit) with unlimited talk, unlimited text, and 2.5 GB of LTE data. The data speeds are throttled to 8 Mbps for LTE and 4 Mbps for 4G HSPA+, which is still pretty fast to me but is a way that they save money. With this promo, you can buy a $40 topup card for $36, theoretically taking your net outlay down to $31 a month.
If you want to buy a lot of cards, you can stack this with the previously-available AmEx Offer for $25 off $250 at Best Buy. California residents should note that Best Buy will charge the MTS surcharge (basically sales tax) on prepaid card purchases.