In the past month, both of my Western Digital 1 TB external backup hard drives have failed on me. This was pretty disconcerting considering I bought two of them specifically so they could be redundant backups. I was a bit lazy and barely had enough time to transfer my data while the last drive was limping along.
I turns out there isn't that much data on real-world hard drive failure rates. When searching, many reference this post by online backup site BackBlaze which has owned over 25,000 hard drives (also see their recent update). In both posts, Seagate drives had much higher failure rates than Hitachi or Western Digital. However, other tech experts point out the flaws in drawing that conclusion. Brands don't matter as much when they keep merging with each other anyway.
Really, the only conclusions I would confidently draw are (1) don't buy specific "low power consumption" models of Seagate hard drives and (2) expect hard drives to fail on you. Imagine how little can go wrong in order to fit 4 terabytes of information on a little spinning disk. This Backblaze post is the one you should actually read. It cites other studies that say hard drives fail much more often than the MTBF (Mean Time Between Failures) statistics put out by manufacturers, and it is hard to predict impending failures even with regular hard drive checks. Here is a chart showing that hard drives tend to fail either within the first year, or after 3 years.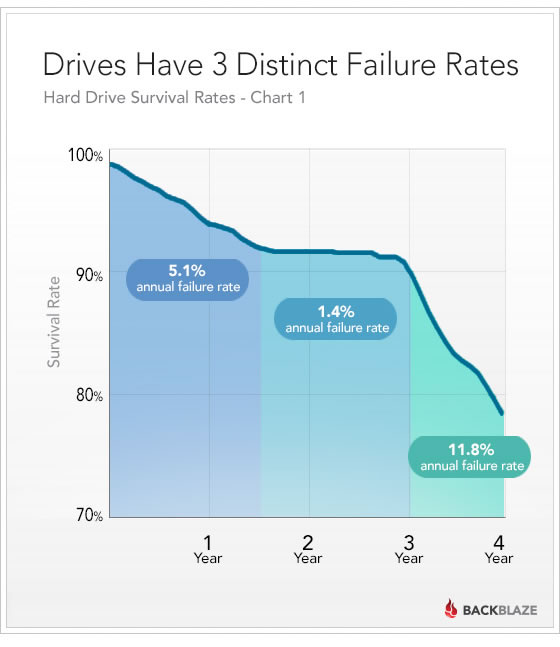 Here is a chart of survival rates over time.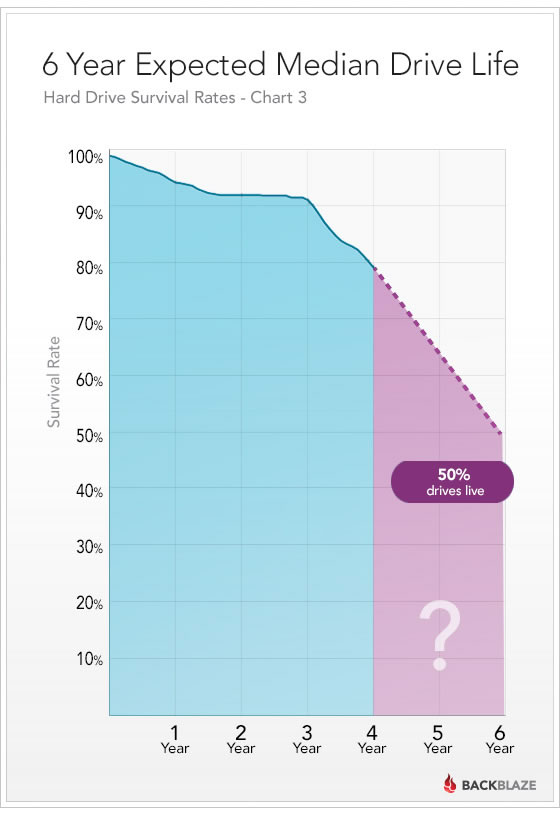 That's roughly 1 in 5 drives failing within 4 years, and maybe half will fail within 6 years. That starts to make a service like Crashplan at $60 a year more palatable.
In the end, Backblaze still buys Seagate drives because their cheaper price more than offsets any expected unreliability. Perhaps that is what consumers should do as well. Forget brands, buy whatever is cheapest, keep redundant backups in expectation of failure, and save your receipts. Of course, hard drive warranties keep getting shorter and are now usually only a year long (perhaps an admission of their unreliability?). Here's my plan:
Purchase with an American Express that offers their Extended Warranty which will double the manufacturer's warranty, up to one year.
Purchase from Costco whatever is on sale, due to their generous return policy. While even 90 days is relatively good, but I also do not see hard drives included explicitly in their 90-day electronics return policy – "We guarantee your satisfaction on every product we sell with a full refund. The following must be returned within 90 days of purchase for a refund: televisions, projectors, computers, cameras, camcorders, touchscreen tablets, MP3 players and cellular phones." Do accessories count?
Keep my important documents and family pictures on multiple formats (cloud, flash drives, multiple hard drives).