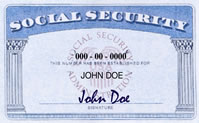 The current "full" retirement age for Social Security is 66, although you have the option to start taking benefits at a permanently reduced rate at age 62 (did you know that over 35% of people take this permanent ~25% cut in benefits!). The full retirement age for Social Security in the US is 67 years for workers born after 1960, but that is always subject to future change. Here's a Wikipedia page comparing the current "standard" retirement ages in various countries.
Why do I bring this up? Last month, Australia announced that it plans to increase its official retirement age to 70 by the year 2035. Here's an AARP article about 14 countries — including Germany, Italy, Spain, Greece and Ireland — who are planning to increase their retirement ages to between 67 and 69 by 2050.
I'm in my mid-30s now, and unlike some I still expect Social Security to be around for a long time. But I also predict that the full retirement age for Social Security will be raised in a similar, and that I won't get full benefits until age 70.
Check out how the math is working against younger workers, via Businessweek: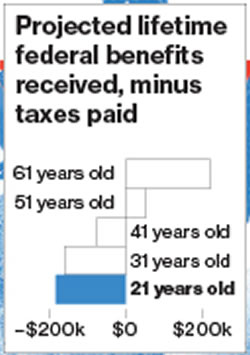 Also consider that 1 in 3 people born today are expected live to 100, so for the system to work they'll likely be expected to work at least 50 of those years. That could be 50 years of 50-hour workweeks (especially if you include commuting) for 50 weeks of the year. Yikes. No wonder I like to learn about the principles behind financial freedom, so I can teach them to my kids!