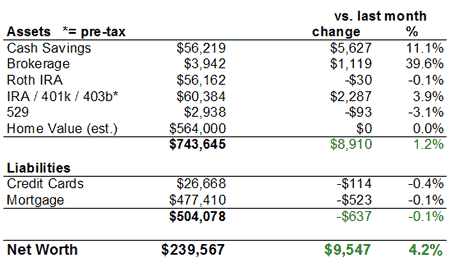 Credit Card Debt
If you're a new reader, let me start out as usual by explaining the credit card debt. I'm actually taking money from 0% APR balance transfer offers and instead of spending it, I am placing it in high-yield savings accounts that actually earn 3-4% interest or more, and keeping the difference as profit. Along with other deals that I blog about, this helps me earn extra side income of thousands of dollars a year. Recently I put together a series of step-by-step posts on how I do this. Please check it out first if you have any questions. This is why, although I have the ability to pay the credit card balances off, I choose not to.
Retirement and Brokerage accounts
We added another $3,048 in 401(k) contributions, which given the numbers above means our retirement accounts actually lost about $1,000 in value. YTD performance numbers are… not good. I just hope that the prices stay low until I can start buying again now that I am done with the Emergency Fund.
In my brokerage accounts, I sold all of my "play money" stocks (only valued at ~$2,000) and instead participated in a minor arbitrage attempt. It worked out well, I made a gain of 10% in 17 days. It's all in cash now and I again have no position in individual stocks at all.
Cash Savings and Emergency Funds
Our mid-term goal is to have $30,000 in net cash put aside for emergencies, for example if both of us find ourselves unemployed for an extended period and even have to start paying for things like health insurance on our own. We are basically done, with about $500 to go. Now to find better uses for our incoming cashflow.
Home Mortgage
Another ~$500 of loan principal paid off. I am debating whether to start paying extra towards my mortgage right now. In my mind, it would feel nice to have a home paid off as part of my grand early retirement plan. However, I also like the idea that such a long-term loan at <6% can act a nice inflation hedge. Besides healthcare costs, I view unexpected inflation as another scary unknown for early retirees.
You can see our previous net worth updates here.