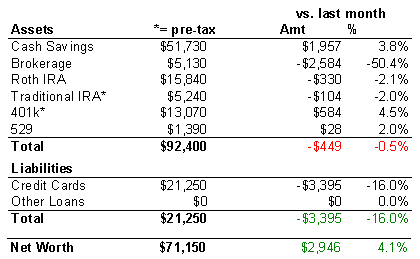 Before any of my newer readers get excited, let me say that all of my credit card debt is in the form of a 0% balance transfer. Please see all three of my posts (1,2,3) on this and the best 0% offers that I have found. No crazy interest payments here.
Ok, so this month was a good month. Our net worth increased $2,946, and our non-retirement funds went up $2,796. I say it was a good month because the stock market had a bad month, the S&P 500 was down 3.1% for the month of March, we took a mini-vacation, and we still came out strong. Which is good because I am going on vacation for a week in April and will be probably be dropping close to a grand on it.
I paid off one of the aforementioned 0% balances this month, which is why you see the big debt reduction and slight loss of assets this month. We are now $63,000 away from our mid-term goal of $100,000, with 27 months to go. That's $2,333 per month, and we are on track.
We don't have a monthly budget. I can not tell for instance, if we spend more or less on food this month vs. last month. I would like to start figuring that stuff out – if I could just find the Money 2005 software CD that I bought, I would install it and start trying to use it. This will most likely be my monthly goal for this month (using it, not just finding it. Although at this pace…).