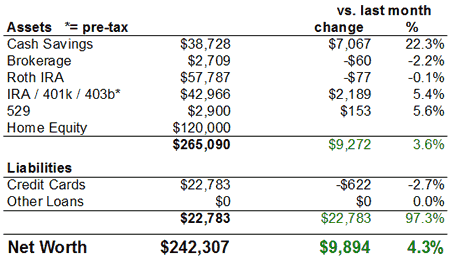 About My Credit Card Debt
If you're a new reader, let me first explain my high levels of credit card debt. I'm actually taking money from 0% APR balance transfer offers and instead of spending it, I am placing it in high-yield savings accounts that actually earn me 4% interest or more, and keeping the difference as profit!

Along with other deals that I blog about, this helps me earn extra side income of thousands of dollars a year. Recently I put together a series of step-by-step posts on how I do this. Please check it out first if you have any questions. This is why, although I have the ability to pay the balances off, I choose not to.
Cash Savings and Emergency Funds
As stated last month, our immediate goal is to replenish our cash savings in order to have at least a 6-month emergency fund. (9-months would be better.) It feels a bit scary not to have a big pile o' cash right with such a big mortgage to pay. I'm even holding off on my Solo 401k contributions for the time being. However, we decided that we will start funding her 403b plan through a regular monthly withdrawal to reach the max of $15,500 for 2008 (about $1,500 per month). Currently, we are about halfway to this goal.
After the e-fund is created, we plan to start paying down our 2nd "piggyback" mortgage which is at nearly 8% interest. I feel that at 8% interest even with an interest itemized deduction that the payoff is worth it. With US Treasury bond yields so low right now, this also works well into the concept of treating additional mortgage payments as increasing your bonds allocation. Where else can I find a low-risk bond are paying a 8% coupon.
Lazy Home Equity
Previously, I considered a few different ways to track home equity, one of which was using the formula of Home value – Loan balance. My home value is subjective and probably going to decrease. My loan balance will inch up a small bit after each mortgage payment. I'm not too excited about tracking either one, so I'm only going to estimate this once every six months or so. So no change this month. Sound reasonable?
Retirement and Brokerage accounts
Not much action here, I'm boring. Market prices are still slightly down. I need to put together another portfolio update soon.
You can see our previous net worth updates here.