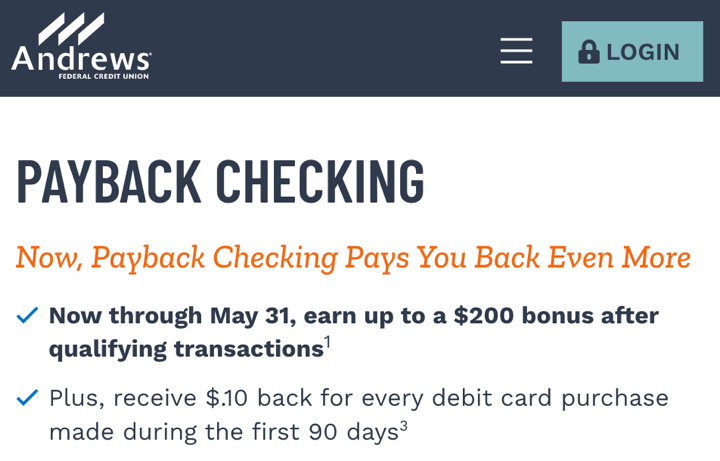 Andrews Federal Credit Union has a $200 PayBack Checking offer with qualifying direct deposits to a new checking account. Offer expires 5/31/23. Here is the breakdown of the bonus:
$75 credit within one business day of the opening of the account.
$125 credit after $500+ in qualifying direct deposits within 60 days of the Payback checking account opening date.
Receive $0.10 for every debit card transaction ($5 or more) during the first 90 days your account is open.
No minimum balance required to obtain the bonus or to open the Payback Checking account.
More bonus fine print:
Members with an existing personal checking account with Andrews Federal (either as a primary or joint account holder) are not eligible. Qualifying direct deposits include recurring electronic deposits of payroll, pension or Social Security. Person-to-person, bank transfers or other electronic money transfers, such as those made through internet payment services, do not qualify. The $125 credit will be made to the new Payback checking account within 90 days of all requirements being met. Your new Payback checking account must still be open and in good standing when we seek to credit the bonus, otherwise the bonus is forfeited. Only one bonus will be awarded per member regardless of the number of accounts opened. Bonus offers are not transferable and are reportable for tax purposes. A $25 early account closing fee applies if the account is closed within 60 days of opening.
Here are details about the PayBack Checking account:
$10 monthly fee will be waived if you receive at least $500 in total direct deposits within a calendar month to this account.
No minimum balance.
Must be enrolled in Digital Banking and/or Mobile App.
Credit union membership eligibility. From their page on membership eligibility:
Our field of membership includes Washington, DC, civilian and military personnel of Joint Base Andrews, Joint Base McGuire-Dix-Lakehurst, and military installations in central Germany, Belgium, and The Netherlands; as well as over 200 employer groups throughout Maryland, Virginia and New Jersey. We also have nationwide membership eligibility through the American Consumer Council.
As I do not live the in DC area and do not qualify otherwise, I joined the American Consumer Council (ACC), a non-profit organization dedicated to consumer education, advocacy and financial literacy. Sounds like something worth supporting! You can join through the website. I believe the cost is a one-time $8, although there is a promo code "consumer" that has worked in the past to get the membership fee waived. They will send you an e-mail shortly with your ACC membership number, which you can use to join Andrews FCU.
Note: Applying for an account may result in a hard credit inquiry. At least for me, they checked my TransUnion credit report.
Bottom line. This is a relatively straightforward checking bonus. Membership is open to anyone nationwide via American Consumer Council. I am already a member of Andrews FCU based on a previous certificate deal (never open a checking account unless you have to), and I have been satisfied with their service. I got the $75 credit immediately after opening, and expect it go smoothly after my direct deposit. Their current certificates rates are relatively competitive but nothing currently exceptional. You may want to check out their car loans or mortgage rates if in the market.