Here is an interesting survey from the Pew Research Center – Americans Assess Their Saving Habits. A lot of the results are what you would guess:
Most people (77%) say they are always trying to save money.
Most people (63%) also say they aren't saving enough.
Housing, cars, and utility bills are the hardest to afford.
Dining out, entertainment, and shopping are the most common areas that people splurge on.
What caught my eye was the section on unexpected expenses. About a third of adults say they had an unexpected expense in the past year that "seriously set them back financially." Among this group, here is the breakdown of the top 4 most common expenses: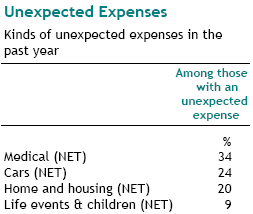 By these numbers, the average American this year will have:
11% chance of having a significant unexpected medical bill, and a
8% chance of having a significant unexpected car expense, and a
7% chance of having a significant unexpected housing-related expense
My conclusion? Expect the unexpected. It's only February and we've already had unexpected family-related expenses in 2007. I think an allowance for such occurrences should be included in our budgets specifically, and not just reserved as a reason to use the emergency fund.
Do you budget for the unexpected? Or do you just let it happen and deal with the ups and downs?