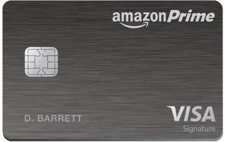 Chase and Amazon have rolled out the Amazon Prime Rewards Visa Signature Card, a credit card (not store card) available only to Amazon Prime members. Highlights:
5% back at Amazon.com and Whole Foods Market for Amazon Prime members. If you stop your Prime membership, you'll be downgraded to 3% back.
2% Back at restaurants, gas stations, and drugstores.
1% Back on all other purchases.
Sign-up bonus of variable amount based on each person's account. I was offered a $70 Amazon Gift Certificate. Click on the "Apply Now" link to see your personalized offer, you'll have time to stop the application.
No foreign transaction fees.
No annual fee.
Extended warranty protection. Extends the time period for the U.S. manufacturer's warranty by an additional year, on eligible warranties of three years or less.
Purchase Protection. Covers your new purchases for 120 days against damage or theft up to $500 per claim and $50,000 per account.
Existing Amazon Rewards Visa Signature cardholder? If you have the original card and are an Amazon Prime subscriber, you should be "upgraded" to this new card automatically. You may see the change online first (your linked purchases will start earning 5% back instead of just 3% back) before you actually receive a new physical card.
Commentary. I recently did a Amazon Store Card review, about a retail card issued by Synchrony Bank that was only valid at Amazon.com. My overall opinion of this credit card is similar, except for the extended warranty protection. If you use gift cards to buy things at Amazon, you will forgo the extended warranty protection and purchase protection that many other credit cards offer. With this card, you will get the extended warranty protection and 5% cash back. How much is an extra year's warranty worth? Depends on how many big-ticket items you buy at Amazon and how likely you'll actually remember to use this benefit.
My rough rule of thumb is that a "hard" credit check can reliably net me at least $500 in value, usually from credit card sign-up bonuses but also potentially from bank bonuses and higher interest. It is very rare that I shop at any specific retailer enough to get $500 in savings. For example, it would take $10,000 of Amazon purchases at 5% back to net me $500 in cash back. (2% back at restaurants, gas stations, and drugstores only draws a yawn when I can get that much cash back on everything. 1% cash back on everything else… zzzz.)
Now, the addition of the 5% back at Whole Foods adds a wrinkle for those that shop at Whole Foods regularly. If you were only getting 2% back before, now 5% on the combined spending at Amazon and Whole Foods might become more compelling.
For the casual Amazon shopper, 5% rotating category credit cards often have Amazon or a place that sells Amazon gift cards as an eligible category. Other cards like the American Express Blue Cash Preferred offer 6% back at grocery stores (that sell Amazon gift cards) or Chase Ink Business cards offer 5% back at office supply stores (that sell Amazon gift cards). Basically, there are other ways that I can stock up on Amazon gift cards at 5% off without having this card.
Bottom line. If you are a loyal Prime member that spends a lot of money at Amazon and/or Whole Foods and prefer simplicity, the Amazon Prime Rewards Visa Signature Card can add up to serious rewards. Be sure to make it your default card for your Amazon account. You can then track all your Amazon spending on one card, and also get extended warranty protection and purchase protection. As with any rewards credit card, you should always pay off your bill in full as the annual interest rate on balances is significantly higher than 5%.