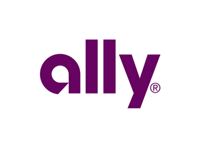 Considering all of the things that can be done instantaneously nowadays, I'm rather disappointed that it still takes 3 business days to move money between most financial institutions. NACHA has been gradually working on same-day ACH transfers – apparently credits are live (like direct deposit), but not debits. Even then, banks may treat this as a premium service and charge a fee.
Ally Bank announced in October 2016 that they would support free 1-day ACH transfers for eligible transfers on 12/3/2016. They later announced a delay until 1/7/17. I finally got around to testing out this new feature in mid-January. Here are their own words:
We can now complete qualified transfers between your Ally Bank and non-Ally Bank accounts in 1 business day – free of charge. If 1-day delivery is unavailable, we'll deliver your transfer in 3 business days.
Here's their updated timing chart (note the cut-off times):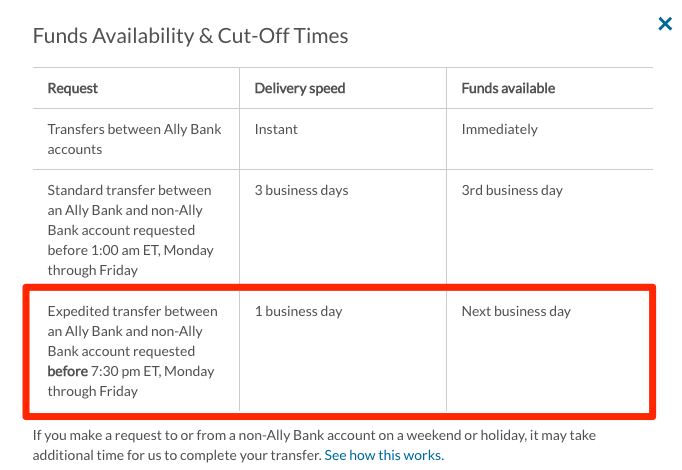 Here are the official reasons why a transfer would be ineligible for 1-day delivery:
Your one-time transfer is ineligible due to account inactivity, overdrafts or transfer returns.
Your transfer is part of a recurring transfer plan.
In my experience playing around with the website, there may be other additional factors. Here are the results of various combinations of to/from between Ally Savings/Checking and a sample External Bank B. This is what Ally is telling me upfront, before initiating the transfer.
Ally Savings to External Bank B = 1-day Transfer
External Bank B to Ally Savings = 1-day Transfer
Ally Checking to External Bank B = 3-day Transfer
External Bank B to Ally Checking = 1-day Transfer
Update – Here's what a commenter Craig said an Ally CSR told him. I haven't officially confirmed this but it appears to be consistent with my experiences.
To qualify for the 1 day transfer At Ally Bank, you have to do at least one $250 transfer in and out of the external account and then it goes into effect 2 months after that is done…so ALL your transfer accounts can qualify for 1 day transfers if you follow that rule…They should mention on the website…i found it out from a CSR….

Let us not forget that Alliant reduced the amount of outgoing transfers to $25,000 where as Ally allows $150,000 per transfer…
This usually isn't a problem since I can make an instant transfer between Ally Checking to Ally Savings and then do a 1-day transfer from there, but savings accounts are only allowed six withdrawals per month. If I have a lot of transfers in any given month, I will eventually run into delays.
Ally has redesigned and improved the user interface of their funds transfer page. They now provide a a nice illustration of when your funds will be debited and when they will be deposited at the target location. It is also explicitly states whether it is a 1-day or 3-day transfer. Here's an Expedited 1-day transfer: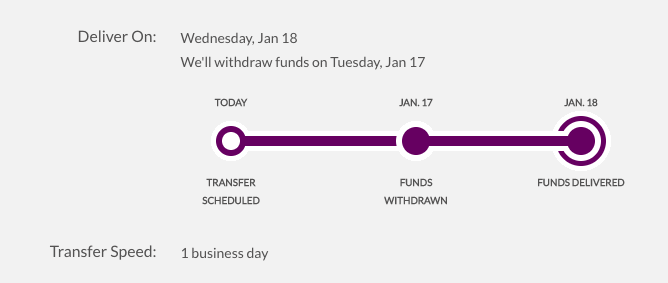 Here's a Standard 3-day transfer (in this case technically it will take only two days):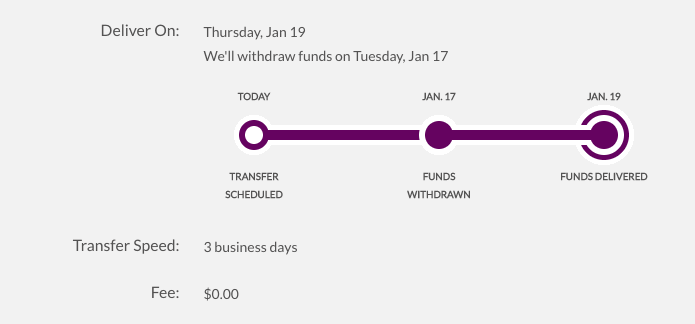 Bottom line. Ally Bank now offers 1 business day transfers in eligible cases with an improved user experience. Overall, I'm happy with this development as it applies most of the time (see above for details). I use Ally Bank as my central hub for cash transfers with Ally Bank Savings Account (higher interest, 6 withdrawals per month) as my default location for liquid cash savings and as a free overdraft source from Ally Checking (unlimited withdrawals per month). If I find a high-interest CD that looks good, I move money to/from my Ally account to where it needs to go, so speed can matter.