While perusing this early retirement reading list for more books to read, I ran across an interesting fellow named Harry S. Dent, Jr. His primary theory is that age demographics are strongly correlated with the economy and thus stock market prices.
In particular, the number of households headed by 46-50 year-olds are the best indicator because they are shown to have the highest spending. This makes sense, as around age 50 is also when peak income occurs while you also have spending pressure from grown-up kids and college tuition. After that, the kids move out, things slow down, and average income drops. Here are some charts from the HS Dent Foundation website: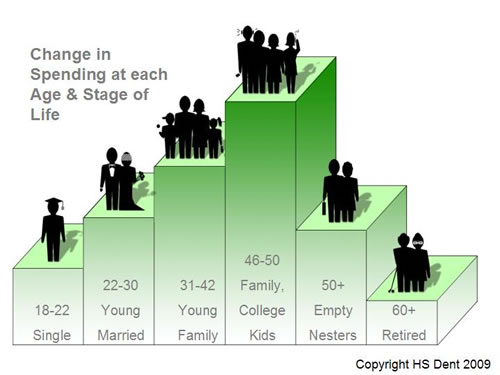 Source:HS Dent Foundation
By looking at birth rates and adjusting for immigration, you can basically predict how many 46-50 year-olds there will be well into the future. Here's how the shifted birthrate data corresponds to the Dow Jones stock index adjusted for inflation: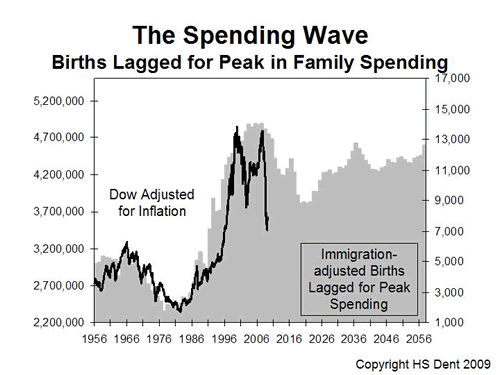 Source:HS Dent Foundation
According to the birthrate data, we are looking at depressed prices for another 10-15 years or so, but things will pick back up after that. While I think there may be something to this concept on a long timescale, I would be careful with trying to profit with it in the short-term.
I'm actually look at Mr. Dent himself here – a quick look around shows that he is trying everything under the sun to make money from this simple theory – writing a new book every few years with mostly the same content (2011, 2009, 2006), selling $1,500 seminars to "Demographics School", and even starting his own Dent Tactical ETF (ticker symbol: DENT) with poor performance since inception and a bloated 1.65% expense ratio. Potential investors should know that he already started a mutual fund previously that failed:
In 1999, the AIM Dent Demographics Trends Fund was launched, based on the demographic economic and lifestyle trends identified by Dent. Unfortunately, the fund's results were miserable. From 2000 through 2004, the fund lost more than 11 percent per year and underperformed the S&P 500 Index by almost 9 percent per year. In 2005, its sponsor put investors out of their misery by merging it into the AIM Weingarten Fund.
Over the years, he has made many predictions. Some of them came true, more or less. For example, he predicted that the slowdown in Japan economy would coincide with the end of the end of their peak number of 46-50 year-olds in 1990-1994. Some of them did not, like in 2006 when he predicted the Dow Jones would reach 32,000-40,000 in the year 2010 (the highest ever close was 14,164 in 2007).
The last prediction I could find was Dow 4,000 to 6,800 somewhere around 2012. That's over a 50% drop from today's prices. I think I'll add this demographics theory to my investing consciousness, but I'll leave the bold predictions behind.