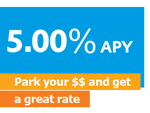 WaMu has rolled out a new 5% APY 12-month CD, which is a very high yield for that term length. Yes, WaMu has had some issues like other banks, but I've already explained why I am sticking with them as long as I'm under the FDIC insurance limits.
Convenience Factor
If you already bank at WaMu, you can fund it easily online with a minimum of $1,000. With their existing Free Checking and 3.75% APY Online Savings combo, it makes a convenient package: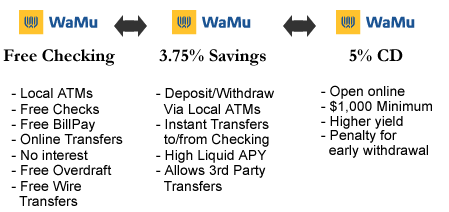 Early withdrawal penalty is 90 days interest. You can fund directly from your existing accounts. I might move some money around for this one.
Combine with 0% APR Balance Transfers
For those that are interested in making some profit using 0% balance transfers, but have been holding off due to the narrowing interest rate spreads, this might be an opportunity to jump back in. Here is a list of no fee 0% APR balance transfer credit cards.
Borrowing the money at 0% and putting it in 5% CD for 12 months gives the following rough math: Gain of 5% interest on $12,000 = $600. Minus $75 fee and taxes to get your final profit. You can do better if you get a larger credit limit. If you can handle the minimum payments of 2% of balance per month ($200 initially each $10,000) with your regular cashflow, then you could stick the entire amount in the CD. The actual terms say that the introductory period lasts "until the last day of the billing period ending during September 2009".