So I the $1,000 28-day T-Bill that I scheduled for purchase last week was issued today without a hitch. I knew the rate was 3.885% (exempt from state and local income taxes), as the auction was on Tuesday and announced on their Recent T-Bill Auction Results page. The issue date was today, and right on time today I see a debit of $997.03 from my checking account. It also showed up online in my Treasury Direct account. After 28 days, on 12/8, I will have an even $1,000. Not so exciting when you think of it as less than 3 bucks. 🙂
But if you think of it as an equivalent CD return, that's the same return as a 4.41% 1-month bank CD, based on a 25% marginal federal tax bracket and 9% marginal state tax. (If you are in higher brackets your return is even better). I'm thinking a T-Bill ladder with 28-day T-Bill rungs…

Here is part of the screenshot from my TreasuryDirect account: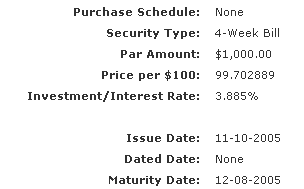 I'll need to to a bit more research to see how a T-Bill ladder would work because what if the T-Bill gets cashed in on a Friday, and I can't buy another T-Bill until the next Thursday? That'd be 6 days of not earning interest. I'm not sure though, so off to their website I go.