Restaurant.com is offering a 80% off with the coupon code SAVE, resulting in a $25 "certificate" for just $2. Offer good until end of today, November 30th. I just checked it and it still works: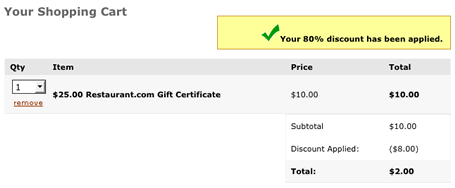 Despite my initial skepticism about these things, many readers responded that they indeed found these certificates very useful in savings some money.
Here's a example positive scenario. You find a restaurant on the list that you like that usually runs around $20 + tip per person (~$48 for a couple). You buy a $25 certificate for $2, which usually comes with a $35 minimum purchase + 18% required gratuity on full price.
Dinner for two = $40 regular menu priceMinus $25 certificate = $15
Plus cost of certificate ($2) = $17
Plus 18% gratuity on menu price = $7.20
Total price w/ tip = $24.20, or $12 a person + taxes
In that case, you can save around 50% on the total bill. These might make good gifts to the right person, but I wouldn't pass them off as worth face value! 🙂